Verizon Joins Sprint in Offering Novatel MiFi 3G/4G Mobile Hotspot
Verizon Wireless has gone ahead and announced its own 3G/4G MiFi portable mobile hotspot unit made by Novatel. The unit was initially shown at the Consumer Electronics Show this year and now Verizon has gone ahead and made the device available for $100 with a two-year contract with discounts and rebates and $270 sans any commitment.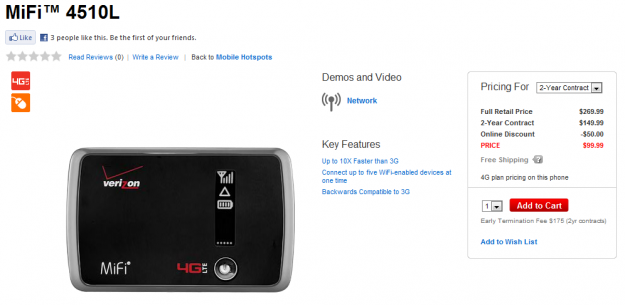 With the MiFi, users can share the device's mobile broadband connection, which rides on top of Verizon's 3G CDMA network or faster 4G LTE network, with up to 5 devices over WiFi, creating a portable mobile hotspot. Like the Sprint variant, this one has an e-ink display, which is an improvement over the 3G-only MiFi model as the display gives users better indication over signal strength, battery life, and connectivity. The 3G/4G model is a bit thicker than the 3G-only edition, but it does support a capacious battery that gives the device up to 5 hours of juice.
The Verizon MiFi is identical to the Sprint version, but supports LTE for 4G rather than WiMax on the Sprint edition. With 4G, Verizon is promising speeds of between 6-12 Mbps for downloads and 2-5 Mbps for uploads.
The Verizon 4G LTE MiFi can be used with a number of WiFi-enabled devices, including tablets, smartphones, PCs, and Macs.
The device will be competing in the same space as smartphones with tethering capabilities, USB modems, and another mobile hotspot made by Samsung that offers 3G and 4G connectivity.
We'll have a review unit in shortly from Verizon to compare speeds and performances between the Verizon and the Sprint MiFi units so do check this space.