Verizon Moto X 2014 Sold Out Already
The all new Moto X 2014 release hasn't been a smooth one, and today we have more bad news for prospective buyers. After months of rumors and weeks of waiting the Moto X was finally announced earlier this week, went up for sale, and eventually arrived on Verizon Wireless last week.
When Motorola took the stage on September 4th and announced the new Moto X, the Moto G for 2014, and the Moto 360 release date, they only had two carriers to talk about. Confirming both Verizon and AT&T would offer the Moto X. When the phone went up for pre-order earlier this month it was only for AT&T, and Verizon was no where to be found.
Read: New Moto X Hands-on Video
However last week Motorola and Verizon both started offering the phone after a short exclusive for AT&T, but we have bad news. Less than a week after the Verizon Moto X release date and it's already completely sold out. MotoMaker.com has been updated to reflect the changes, and we have more details below.
As we stated last week, the Moto X release has been full of surprises with orders shipping early for some, while other buyers are seeing heavy delays on the new flagship customizable smartphone. Motorola offers over 18 different custom colors, wood backs, four new leather options and more. Meaning you can buy a completely customized leather smartphone, get it engraved, and delivered right to your door.
It's an awesome idea that was rather popular in 2013, but so far things aren't going too smooth here in 2014. For one, Sprint is no longer offering the new Moto X, leaving only AT&T and Verizon this year. Secondly, after making buyers wait weeks and weeks without any news, Verizon finally confirmed they'd offer it one day before it went on sale. Leaving buyers in a rush to decide if it's the right phone for them, and buy one.
This weekend reports surfaced that MotoMaker.com is already out of the Verizon Moto X, and we've confirmed that this afternoon. Shown below is the MotoMaker website only offering the AT&T unit. Stating that all Verizon Moto X phones are currently out of stock, and there's no estimated return date either.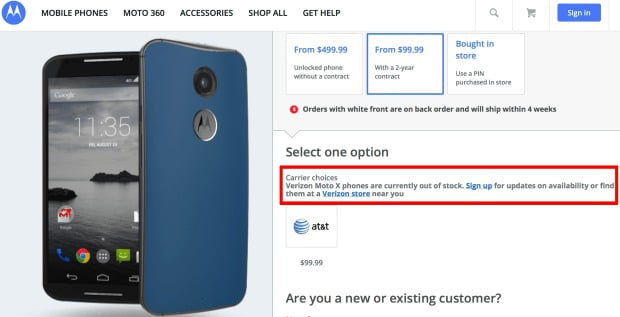 To make matters worse, those who've ordered a white Moto X instead of black will be seeing a four week delay. The site has been updated stating all white orders are on backorder, and should ship within 4 weeks. So even if you did manage to grab a white Verizon Moto X, you're looking at quite a delay between when you order and when it will actually arrive.
For now the standard white, black, or bamboo Moto X 2014 are still available from Verizon Wireless themselves with no delays, which is the only option available for Verizon customers. Those looking for a custom Moto X will have to wait even longer for more to arrive in stock.
It's worth noting that the original AT&T Moto X (2014) model is still available, which went up for pre-order a few weeks ago. It has been on sale for far longer than the Verizon model, yet is the only option still available to buyers. Either Motorola didn't expect the amount of buyers from Verizon Wireless, or they're experiencing a few problems. The Moto X and Moto 360 releases haven't been very smooth, to say the least, and we'll update once we learn more on Verizon Moto X availability.

As an Amazon Associate I earn from qualifying purchases.