Verizon Novatel MiFi 4510L 4G LTE Mobile Hotspot Review (Video)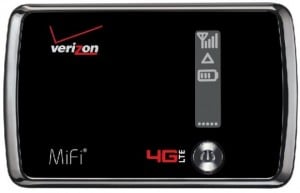 At first glance, the Verizon MiFi 4510L 4G LTE Mobile Hotspot router from Novatel bears a lot in common to the Sprint MiFi 3G/4G mobile hotspot, also made by Novatel, but under the hood, there are a few subtle differences. Both units promise to connect you to their respective carrier's 3G or 4G networks where available, and both offer a simple to use ability to share your mobile broadband data connection with up to 5 other devices, but with the 4G models, Novatel's MiFi for Verizon Wireless and Sprint are more like close cousins rather than the fraternal twin heritage that's shared by the original CDMA 3G MiFi for both carriers.
Review:
Like the original CDMA 3G model, and the Sprint 3G/4G MiFi, the Verizon MiFi offers a similarly compact form factor, taking up a footprint of slightly larger than a credit card. The unit is a bit more thick to accommodate a 4G LTE radio and a larger, more capacious 1500 mAh battery that's capable of providing you with up to 5 hours of usage time while tethered. New to the 4G model, compared to the 3G-only model of the past, is the inclusion of an electronic ink display, which is the same as on the Sprint 3G/4G model. The display gives users better awareness of their network, including the ability to see the reception and battery level. However, users will still have to rely on the multi-purpose LED light on the front side of the unit to discern if they're connected to 4G or 3G–it will be green for 4G LTE connections. On the top of the unit just below the E-Ink display is a power button, like on the previous generation model.
Unlike the Sprint cousin, Verizon opted for a glossy black top with chrome trim, rather than the more subdued brushed metal finish on the Sprint model. The back and sides of the unit is surrounded by a nice coating of soft-touch paint. In terms of size, the Verizon Wireless model is a little bit larger than the Sprint model.
Verizon Wireless promises 4G LTE speeds of between 6-12 Mbps on the download side and upload speeds of between 2-5 Mbps. In use, I am routinely within this range and see peaks of upwards of 20 Mbps on the download side and upload speeds upwards of 10 Mbps. The Verizon 4G LTE network is faster than Sprint's 4G WiMax network, and for those who are trying to debate between the Sprint 3G/4G MiFi and Verizon's model, pricing may be a big consideration. Sprint offers unlimited 4G data access and a metered 3G usage bucket for its plan while Verizon charges in either buckets of 5 or 10 GB per month on its network. If you're on a 4G network, and don't mind slightly slower speeds, a 4G MiFi on Sprint's network may be more economical, especially if you're looking to use the MiFi to replace your home broadband connection or are frequently using data while travelling to stream videos, upload photos, or do more data-intensive tasks. Sprint's network speeds aren't shabby either with promised download speeds of 3-6 Mbps and 10 Mbps bursts. I routinely got between 2-4 Mbps on Sprint's model, and I got upload speeds of 1 Mbps.
Where Sprint's and Verizon's models really differ is the underlying OS that's used to power the MiFi. Sprint's MiFi is a little bit 'smarter,' thanks to its use of the MiFi OS. The difference really isn't noticeable at this point, but if you're looking at expandability in the future, the MiFi OS comes with widgets and as soon as Novatel and Sprint approves of more widgets, you can update your MiFi to support additional widgets. On the Verizon unit, it's more like a feature phone, or a dumb phone, than a smartphone as you don't have the MiFi OS. There's still an administrator log-in so you can set up your network, change your SSID or network password, manage MAC addresses, or filter by ports. All the basic network settings are accessible both on the Sprint and Verizon models; the major difference is the MiFi OS.
Other than the ports being arranged differently on the Sprint and Verizon model, another big difference is that there is no memory card slot on the Verizon model. The micro SDHC card slot found on the Sprint and AT&T MiFi units allow users to share files stored on a micro SD card, for example, with work colleagues who are connected to the same MiFi. When I had spoken to some Sprint reps at CTIA, they had mentioned that they had used the MiFi's wireless connection to access the Internet in a conference room, while sharing files and press releases on the micro SD card that was accessible by others on the MiFi. And since you can share your connection with 5 others, there's less emailing that needs to be done to share a simple Word or Excel file.
Conclusion:
At this point, the difference between the Sprint and Verizon models are pretty minimal. Will you miss having the MiFi OS and the ability to use widgets? Most likely note as the widgets available right now are pretty basic and it's nothing you can't do by simply setting your homepage to MSN or Yahoo anyways to get the latest local weather. In the future, as the MiFi gets more sophisticated, the differences may be greater. The big differentiator, then, becomes the ability to share your network connection with the micro SD card slot that's present on the Sprint model and absent on the Verizon model. If you like file sharing and are using the MiFi in a work group setting, the Sprint model may be more suited for you.
With 4G, this is the first time that the MiFi units have differed so greatly for Sprint and for Verizon Wireless. Not only is there a different network architecture support, but the units also have different software, different network technologies, and different hardware features.
What it really boils down in the end, for many consumers, is pricing and speed, and we see tradeoffs between these two attributes with the models we have looked at. Sprint offers a more generous unlimited 4G mobile broadband plan that includes 5 GB of metered 3G data use with its MiFi, making it a more affordable solution for users to either replace their home broadband, do a lot of streaming, tether and share their connections, or work away from home. Verizon's fully metered plan offers better speeds, especially on the upload side, but may cost more in terms of data pricing if you use your MiFi a lot.
Sprint MiFi: