Verizon Offering Galaxy Nexus for Free to "Loyal" Customers
If you're a loyal Verizon customer, you'll be happy to know that the carrier is sending out emails informing those who have upgrades in the not-so-distant future that they are eligible to snag three phones for free. The deal is part of Verizon's loyalty program and the deal has Big Red offering the Samsung Galaxy Nexus, Motorola Droid RAZR and Samsung Stratosphere for the low price of zero.
Yes, the Samsung Galaxy Nexus and the Motorola Droid RAZR are available for free through Verizon.
Again, not every single Verizon customer is going to qualify and there might be a few of you with upgrades in the near future that won't either. We suggest that you call Verizon customer service to see if you qualify.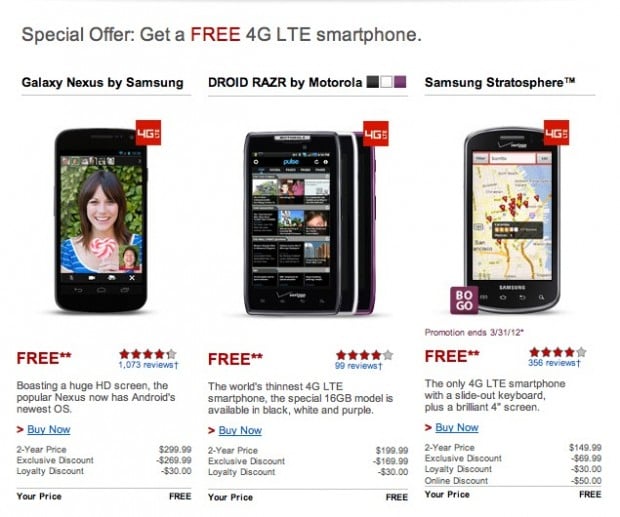 (Read: Galaxy Nexus Review.)
For those that are eligible, you're going to have to sign a new two-year contract with Verizon in order to get one of the devices for nothing. For consumers who have been looking to stay with Verizon and snag a quality Android phone, that shouldn't be too big of a deal.
However, we should point out that there are some pretty incredible devices out right now that aren't called the Droid RAZR or Galaxy Nexus and there are many other phones that are coming out later on this year.
(Read: Droid RAZR Review: Editor's Choice.)
Mobile World Congress is happening right now and companies have been announcing phones at a neck-breaking pace. The iPhone 4S is still on sale and we know that the Samsung Galaxy S III is on its way in the months ahead.
(Read: Samsung Stratosphere Review – 4G LTE and a Physical Keyboard.)
Still, free is free and you may just want to check out if you're eligible even if you have your sights on another phone.
Via: Droid-Life
Update: The offer is only available in select regions of the United States.

As an Amazon Associate I earn from qualifying purchases.