Verizon Offers 30 Days of VZ Navigator VX with Traffic, Real Signs & More
For Android users, Google Maps is the go to mapping solution, but Verizon has updated the VZ Navigator app with a collection of new features and a free trial to try to convince you to give the subscription GPS solution a try.
Right now new VZ Navigator users can score a free 30 day trial of the VZ Navigator tool and services. In addition to getting you from A to B, the GPS tool has several new features which may entice you to give it a try. If you are traveling this summer, and are already a Verizon user, it's worth checking out.
VZ Navigator can be found on the Vcast App store from your Android smartphone and you can visit https://nav.vzw.com/vznav to download VZ Navigator to your phone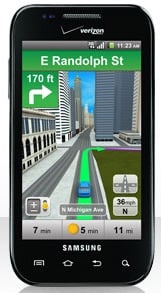 The new VZ Navigator VX Features include the following enhancements in addition to standard turn by turn navigation;
Smart Routes with Real-Time Traffic – Updated every 60 seconds, telling you when traffic is ahead and mapping out detours to get you around it.
Voice Turn-by-Turn Directions – Even with other apps open, you will continue hearing where to turn to keep you on track.
"Real" signs and road views – Accurate highway signs guide you into the correct lanes and prevent last minute lane changes.
Location Sharing – Use Place Messaging or Facebook to share your real-time location or the place of an upcoming meeting.
You can learn more about VZ Navigator VX from Verizon . Choose the 30 day option to start your free trial. At the end of your trial you will be prompted to renew your subscription, but you won't be automatically enrolled in a recurring plan.
https://youtu.be/xRV8-u7adeQ

This article may contain affiliate links. Click here for more details.