Verizon Retiring Samsung Fascinate: What Will Replace It?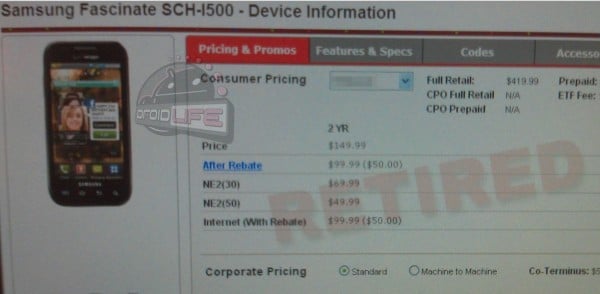 The original Samsung Galaxy S model for Verizon Wireless, known as the Fascinate, is getting retired by the carrier nearly a year after the device launched. The retired status of the phone means that it will probably be hard to find the phone in the future as Verizon will probably just sell out current inventory of the device rather than continue to order new shipments. The cycle seems natural as the carrier is about to launch a number of new devices on its network.
For those interested and keeping an eye on the Samsung Fascinate, there are several potential successors that you may be interested in. A Fascinate 2 has been speculated in the past as Verizon's Samsung Galaxy S II model, which will bring beefier specifications including a dual-core processor, Super AMOLED Plus display on a 4.3-inch screen, and perhaps 4G LTE support, though that's unclear at this point and the Fascinate 2 or whatever it will be called could very well launch as a 3G CDMA smartphone.
Leaked images of a Samsung Android device with a sliding QWERTY keyboard have also surfaced in the recent past. Those images suggest that Verizon may be offering a device similar to Sprint's Epic 4G, though it's unclear at this time if Verizon's model will be a 4G model. Also, it's uncertain if this device will bear the single-core Hummingbird processor of the Galaxy S 1 or if it will be a higher-end dual-core smartphone like the Galaxy S II.
Yet, there's even a potential third possibility as well. Leaked spec sheets show that Verizon Wireless will soon be launching a device called the Samsung Stratosphere, and this could potentially fill the void for subscribers who will be yearning for the Fascinate after the carrier has sold out.
Of course, with recently-released 3G and 4G smartphones, the forthcoming Motorola Droid Bionic and HTC Vigor, and these new Samsung devices, there will be a lot of choices to fill the gap on Big Red's network.
Via: Droid-Life

This article may contain affiliate links. Click here for more details.