Verizon Samsung Gem Spotted In The Wild
A Verizon branded Samsung Gem has been spotted in the wilds by former Engadget editor Chris Ziegler and lucky for everyone else, he was able to capture pictures of the event.
Earlier today, we reported that the Samsung Gem appeared on Verizon's website over the weekend confirming that it not only will be headed to Big Red but that it will be coming out at some point in the immediate future as well.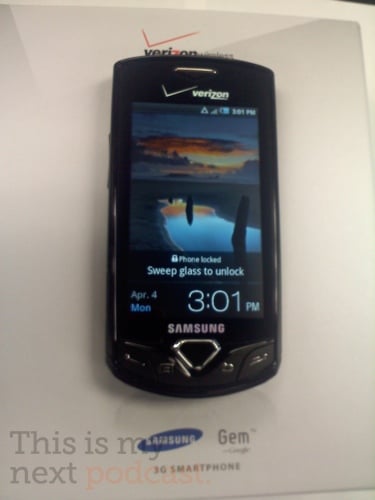 If that wasn't enough evidence, Ziegler has thrown up a series of photos depicting not only the Samsung Gem with Verizon branding but photos of the box and just about everything that comes along with the device.
The Samsung Gem has been rumored to have been coming to Verizon since last year and it's already available on Alltel. While not the most amazing device to ever grace the earth, the Samsung Gem will come with Android 2.2 along with a 3.2 inch WQVGA screen, a 3.2 MP camera and a strange diamond shaped home button.
Pricing and availability should be upon us in the very near future.

This article may contain affiliate links. Click here for more details.