Verizon Samsung Pay Release Confirmed
Today after more than a month of waiting through an entire beta program and more, Verizon Wireless finally confirmed they'll offer the impressive Samsung Pay service to its users. Currently available in the United States all all carriers, but Verizon, this is good news for those with Big Red.
Earlier this year when Samsung announced the new Samsung Galaxy S6 and Galaxy S6 Edge they unveiled Samsung Pay. A new wireless mobile payment system aimed at taking on Apple Pay, Google Wallet and more. However, it works in more places than Android Pay or Apple Pay combined, and has a lot to offer which is why many on Verizon were upset to see they wouldn't get the option to use it.
Read: Samsung Pay vs Apple Pay: What's the Difference
In August Samsung announced a beta program for Samsung Pay, allowing select users with eligible devices the chance to enjoy Samsung Pay early, ahead of the September 28th release date. I've been using it since before the Galaxy Note 5 was released, and now it's finally coming soon to Verizon customers. Read on for more details.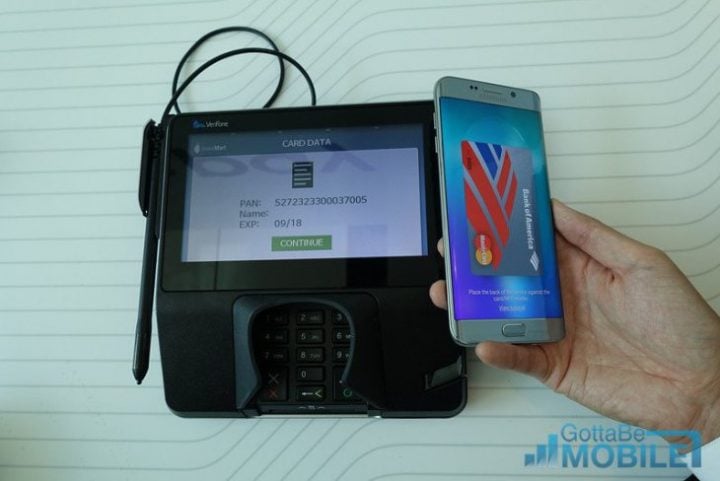 When Samsung Pay was reintroduced at the Galaxy Note 5 launch event in August, the company confirmed all carriers were on board except for Verizon. They also confirmed bank support, carrier information, and promised more details were coming soon. Since then all we knew was Verizon was "evaluating it" but now we have good news.
Samsung Pay is coming to the Verizon Samsung Galaxy S6, Galaxy S6 Edge, Galaxy Note 5, and Galaxy S6 Edge+ in the near future. Each smartphone will need a software update to be able to enjoy Samsung Pay, and we're expecting it to arrive sooner rather than later. AT&T, T-Mobile, Sprint and others pushed the update on September 28th, the day Samsung Pay launched, so this should be a small and painless update for Verizon to deliver to its customers.
Samsung Pay will be supported on compatible Verizon smartphones (Galaxy S 6, S 6 edge, Note5, S6 edge +) through a future software update.

— Verizon News (@VerizonNews) October 6, 2015
So what is Samsung Pay and why is it so important? Well, it works like Apple Pay, but is accepted virtually everywhere that takes a credit or debit card. Everything you need to know about Samsung Pay can be found right here.
Apple and Android Pay both use NFC, which is Near Field Communications. Using a chip inside our smartphones and at a very small select few retailers, gas stations, Starbucks, or vending machines, users can make wireless mobile payments by tapping their phone against the terminal. It's a great service, but Samsung has everyone beat.
Samsung allows for NFC mobile payments just like Apple and Google, but Samsung Pay is also backwards compatible with all swipe-based magnetic terminals (Magnetic Secure Transmission) used in stores around the globe. Samsung acquired a company called LoopPay, which enables this.
What this means is that owners with any of the compatible Samsung devices mentioned above can easily, safely and securely make wireless mobile payments all by tapping their phone against the payment terminal at almost any location in the United States. Instead of at just a few select places like Google and Apple offer.
This was big news, and one of many amazing features on the Samsung Galaxy Note 5. Samsung Pay is currently available on all US carriers but Verizon, but a software update should enable it soon. We'll update the moment we know when. Users will still need a supported bank or card, and at the moment those are American Express, Bank of America, Citi or U.S. Bank. More cards, banks, carriers and support will be added in the near future, so stay tuned for more details.