Verizon to Launch Galaxy Note 10.1 LTE on March 7? (Update: Official)
After much waiting, the long awaited 4G LTE-enabled edition of Samsung's S-Pen-enabled Galaxy Note 10.1 tablet may land on March 7 if rumors are to be believed. The network had announced that it will be offering the LTE edition of the slate for its network earlier in the year, but failed to give a specific availability date. Now, it seems that a tipster to Android Central has leaked that the date will be this Thursday.
Update: The Galaxy Note 10.1 LTE will officially arrive on March 7th.
The device has begun to appear on Verizon's retail employee intranet site and various Verizon retail stores have been stocking accessories like screen protectors in advance of the tablet's availability.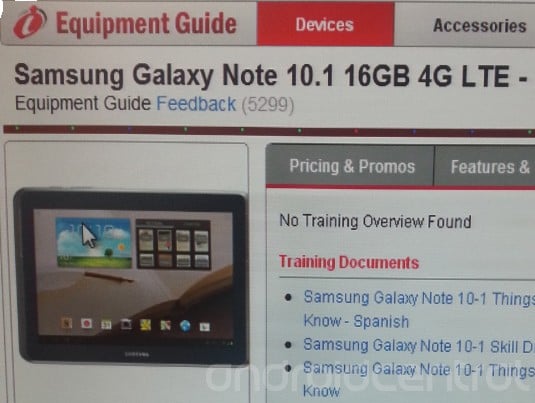 The non-LTE WiFi edition of the slate was announced at Mobile World Congress a year ago, so this means that the LTE version is appearing over a year after the initial tablet was introduced. However, to Verizon's credit, Samsung had delayed the launch of the WiFi-only version last year to fine tune the tablet, so the period between when the WiFi version is available and when the LTE version will be available should be under a year. Hopefully, Verizon and/or other U.S. carriers won't take as long to test and approach the Galaxy Note 8.0 tablet, which was introduced late last month. That tablet shares the same display resolution and S-Pen capabilities of the 10.1-inch edition, but on a smaller 8-inch screen.
So far, pricing has not been announced, but the LTE edition will likely command a price premium over the WiFi-only version. Apple charges a $130 premium for the version of the iPad with mobile broadband enabled, and likely a similar situation will be true with the Note 10.1 LTE. Verizon currently doesn't normally subsidize tablets, which means you'll have to pay the full retail price but you won't have to be stuck with a two-year contract. This means you can activate mobile broadband 4G data when you need it and de-activate it for the months when you don't need this access. Users can opt for a prepaid tablet plan or add the device to their Share Everything shared data plan.
For users without the need for S-Pen functionality, Verizon also offers the less expensive Galaxy Tab 2 10.1 LTE as well.