Verizon to Preload Amazon Apps on Android Smartphones, Hints at Google Nexus 7 Tablet With 4G
Verizon's Galaxy Stellar smartphone from Samsung had raised a few eyebrows when it launched as it was the first device on Verizon's lineup to entirely bypass Google's Play Store ecosystem in favor of Amazon's Appstore for Android. That, however, may be a sign of things to come as new Android smartphones will launch with a whole suite of Amazon apps 'on one dedicated home screen' to ensure that consumers can get the apps they know and love quickly.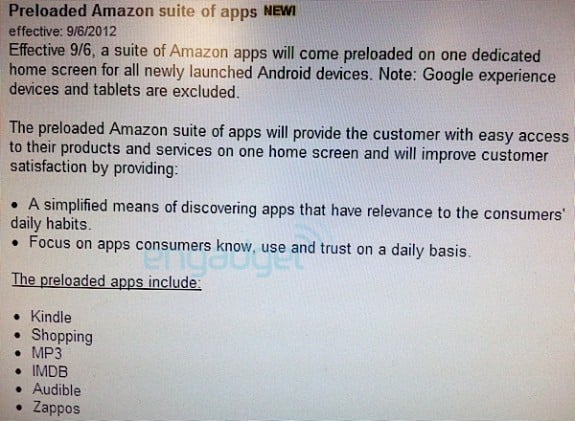 In a leaked document obtained by Engadget, it appears that Verizon Wireless intends on pre-loading future Android smartphones and tablets with the following Amazon apps:
Kindle
Shopping
MP3
IMDB
Audible
Zappos
The move shouldn't be too surprising. In the past, Verizon had experimented with eschewing Google search by preloading some of its Android devices with Microsoft's Bing search engine instead. However, what's curious is that these preloaded apps come at a time when many carriers are scaling back adding bloatware to their smartphones in favor of a cleaner user experience.
The other thing that the leaked document provided is that Verizon will not be preloading these Amazon apps on 'Google experience devices and tablets.' The company currently carries the Google-branded, Samsung-made Galaxy Nexus smartphone. That is a pure Google device and would not be subjected to Amazon's preloaded apps. The mention of a tablet is interesting as the current Google experience tablet is the Nexus 7, and that device is a WiFi-only model.
This may suggest or imply that Verizon intends on selling the WiFi Nexus 7 in its stores, or that it is working with Google and Asus to launch a Nexus 7 with embedded 3G or 4G wireless mobile broadband connectivity. Recently, there's been rumors that Google may launch a 3G/4G edition of the Nexus 7 in a month and a half.