Verizon Wants Thunderbolt Fans to Move "On to Other Topics"
The Verizon Thunderbolt is getting a ton of attention, not all of it good. There's still not a clear release date for the device, despite the fact that Best Buy, the 'exclusive' retail partner for the Thunderbolt launch is already advertising the device in its weekly circular and has been taking pre-orders since February 6 at its retail locations.
A Best Buy store representative even Tweeted that the Android smartphone would be available on March 4 last Thursday, which had previously been pegged as a rumored Thunderbolt release date. Other sources, including HTC reps have also pointed to the March 4 release date, assuming Verizon and its partners could work through some politics. A mid March release may prove more likely at this point.
Countless HTC Thunderbolt fans have been enquiring as to when they'd be able to get their hand on the device.  They've tried contact Verizon through retail locations, customer support channels and Verizon's official Twitter channel. Multiple 'official' launch dates have been given to Verizon customers and many have the impression that the Verizon Thunderbolt by HTC is already late.
Verizon Wireless tried to clear things up by responding to a tweet sent that accused Verizon of delaying the Thunderbolt release. The customer's Tweet read:
"@Verizonwireless NOW the #Thunderbolt release date is the 28th?!? Your iPhone sucks & so does your marketing"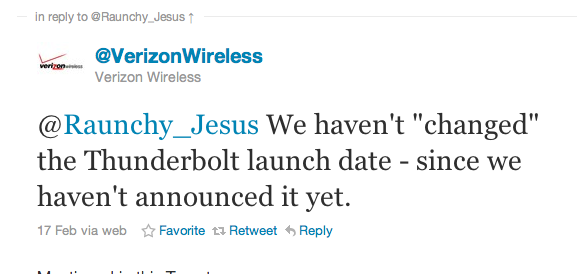 Verizon dignified @Raunchy_Jesus by responding with the above Tweet. I think Verizon's PR rep, our whomever manages the @VerizonWireless Twitter account should probably steer clear of engaging in conversation with someone that goes by the name of Jesus Harold Christ and has a photo of Jesus in the midst of a homosexual joke as his Twitter background. If the guy behind that Twitter account isn't a troll, I don't know what one is.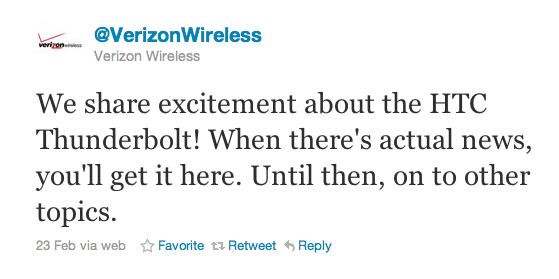 But the Tweet is absolutely accurate. Verizon Wireless itself has not announced an official Thunderbolt release date thus far. Individuals that work customer service or at retail locations have given their best guesses, but we haven't heard a thing about the Thunderbolt via the Verizon corporate channels.
On Wednesday, Verizon Wireless sent another Tweet about the Thunderbolt and the folks behind the @verizonwireless Twitter account appear to be tiring of questions about the HTC Thunderbolt . Perhaps they want the geeks of the world to focus on products you can actually buy at Verizon stores, such as the Motorola Xoom and Apple iPhone 4.
As much as Verizon would like to steer the conversation away from the Thunderbolt, I think the company owes its customers an explanation. Its partners and own employees on the ground have made a confusing mess of the Thunderbolt release.
So when is the Thunderbolt going to hit store shelves? We still don't know and neither does anybody else. You can sign up for official alerts over at Verizon.com. We haven't heard a peep from them, but wish we'd hear some Thunder sooner rather than later.  We thought the release date was close when Verizon released an HTC Thunderbolt commercial, but it soon pulled it off YouTube.