Verizon's LG Optimus LTE II Captured in Photos, Rumored for July 13 Launch
It looks like the LG Optimus LTE II is close to a launch on Verizon's 4G network. The LG Android flagship smartphone will follow in the footsteps of the LG Revolution and LG Spectrum on Verizon's network, and will come with specs that will make it competitive against flagship offerings from LG's rivals, including the HTC One X and the Samsung Galaxy S III.
The Optimus LTE II is also known by its VS930 model number. The device will feature Android 4.0 Ice Cream Sandwich that will be powered by a dual-core 1.5 GHz Qualcomm Snapdragon processor. It will have a 4.7-inch 720p HD display with LCD IPS technology for wide viewing angles. The phone will be a world-phone, supporting both Verizon's CDMA/EVDO/LTE network in the U.S. as well as GSM/UMTS networks overseas and will come with 16 GB internal storage along with NFC.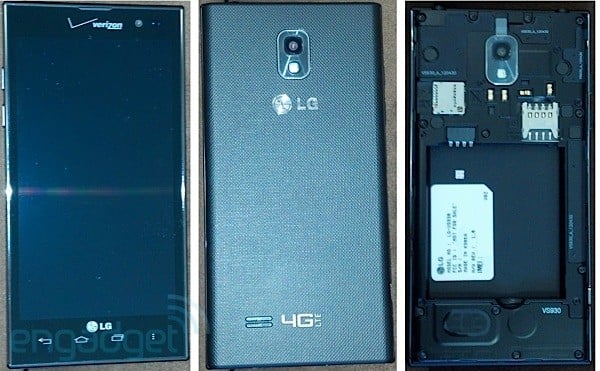 The Optimus LTE II, unlike the Galaxy S III, will have 1 GB RAM instead of 2 GB.
According to Engadget, the Optimus LTE II could potentially launch as early as July 13th on Verizon's network. In addition to the photos of the phone captured in the wild, there is also a leaked service manual for the device.
At this time, it's unclear if Verizon will adopt the Optimus LTE II branding or if it will give the phone its own name for its network. Perhaps a Revolution II or Spectrum II branding will be possible.
So far, neither Verizon nor LG is commenting on the phone and neither party has announced the device.

As an Amazon Associate I earn from qualifying purchases.