Vertu Working on Android Luxury Smartphone?
It looks like luxury brand Vertu, which was formerly wholely owned by Nokia, may make the jump from Symbian to Android with its next handset release. The company is rumored to be working on a luxury Android handheld that could be launch at the end of February, perhaps at Mobile World Congress, and sport a price tag of roughly 3,000 Euros. Though the price tag is still steep–fetching about $4,000–the new Android luxury number will be among the most affordable Vertu smartphones to date.
Vertu began as the luxury arm to Nokia back when the company still produced Symbian handsets. However, with the switch to Windows Phone for Nokia's consumer-based Lumia line, Vertu was neglected and eventually Nokia had sold off 90 percent ownership of the company to an investment group. Famed leaker Eldar Murtazin had revealed on Twitter that Vertu will launch a handset that will revive Nokia's legacy Nokia 8800 slider smartphone form factor.
The Nokia 8800 was popular in the mid-2000s and carried with it a glass display on top followed by a sliding form factor that protected the keypad from accidental dialing when the phone is in a purse or pocket.
It's unclear if this legacy design that Murtazin describes of will be revived exactly as it is, but with Android on board. Phone Arena reports that the phone will continue the 8800 legacy, but would be named differently than the 'Nokia 8800 Legacy' moniker that Murtazin had stated.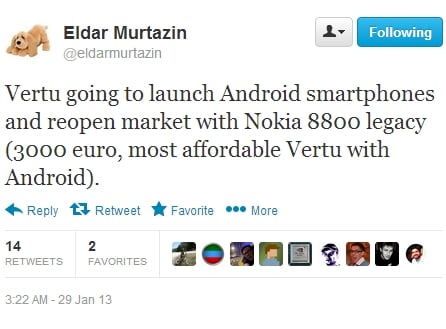 Perhaps this specialized Vertu revival of the Nokia 8800 will have a slider form factor, but with a full QWERTY hardware keyboard instead–something akin to a luxury Palm Pre or Dell Venue Pro? Vertu does have experience making luxury handsets with a physical QWERTY keyboard with the release of the Vertu Constellation Quest, a device that has a BlackBerry-like form factor.
In addition to Vertu, there are a number of other luxury smartphones on the market.
So while Nokia itself is still firmly committed to Microsoft's Windows Phone OS, Vertu is headed towards Android and Nokia does own a 10 percent stake in that business.

As an Amazon Associate I earn from qualifying purchases.