Video: Motorola MotoACTV Is What the iPod Nano Should Be
When Motorola first unveiled their new MotoACTV device the other day, my first thought was: oh look, an Android iPod nano. Finally. I've long felt that Android device manufacturers needed to get more on creating iPod rivals. (By the way, Samsung, hurry up with that Galaxy Player.)
Not only did Motorola step up in creating a viable nano rival, they also managed to create a device that does a bunch of things I wish the nano did. Though the company emphasizes the fitness aspects of the device, the MotoACTV is really the smartwatch Josh Smith (and everyone else) has been waiting for.
Even if you're not into the whole exercise thing, the MotoACTV is very tempting.
At its most basic, the MotoACTV is an MP3 player. It comes in 8GB and 16GB flavors, which won't hold every song ever, but will give you a few days worth. It also has an FM radio inside in case you still cling to the soothing tones of morning zoo DJs.
It's a little larger than the nano, measuring 1.8 x 1.8 x 0.38 inches and weighing just 35 grams. The 1.6-inch color display is nice and bright, just big enough to give you the info you need but not for much else. You get physical buttons for volume control on the side and two on top for navigating.
What the MotoACTV has that the nano does not is Bluetooth, which can connect to Android phones (and interact via a free app). Through this connection you can get notifications of incoming calls, read alerts and text messages, or even take calls. This works with both the included wired headset or the Bluetooth one. You can't initiate a call from MotoACTV, but that's still pretty sweet.
Then the fitness stuff comes in. In addition to the heartrate monitor in the headphones that come with it, users can keep track of steps, and how far they've run or walked with the GPS. Plus, the MotoACTV can connect wirelessly to ANT+ sensors in fitness equipment. The sweatproofness helps, but I wonder if I'm going to need to disinfect it often?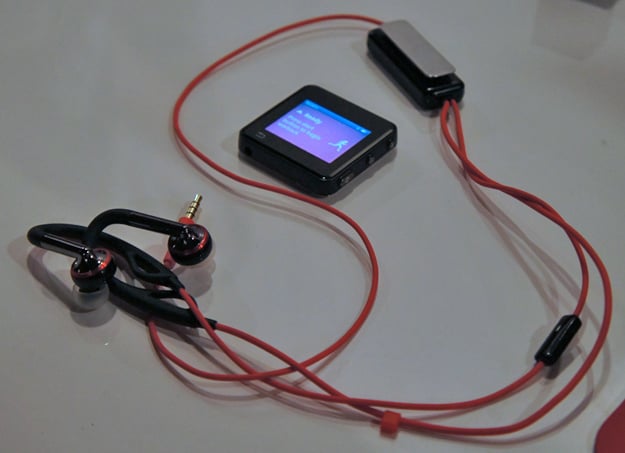 There are a ton of fitness-related goodies on the software side, like a way to track your progress over time, challenge friends, and share your progress on social networks. The device will also keep track of the songs that get you most pumped up and will play them when your energy flags.
It's too bad that the MotoACTV is targeted so directly at the fitness market, because that could turn some couch potatoes off to its other virtues. Then again, it may inspire some to think about their health a bit more even if they don't buy it for exercise. Nothing wrong with that.

As an Amazon Associate I earn from qualifying purchases.