Video of Augen Gentouch Tablet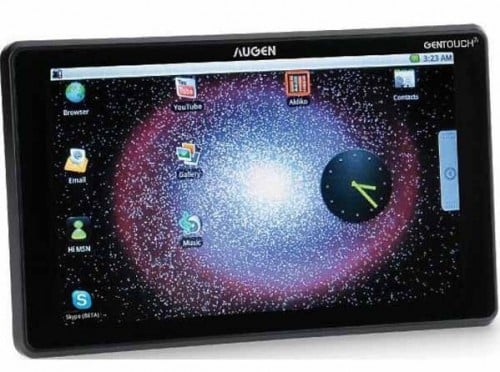 The Digital Reader has compiled a series of three videos of the Augen Gentouch Android Tablet. Perhaps you remember it is the $149.99 (sale price) Android 2.1 Tablet that is being sold through Kmart. Take a look at the videos yourself and see what you think. There are more on Digital Reader. I expect we'll see more, but then again maybe not. Meanwhile in our post on this from yesterday, GBM reader zeuxidamas provided the following specs:
Product Features
•800×480 color TFT touch panel screen
• CPU: 800 Mhz
• Ram: DDR2 256mb
• Internal Memory: 2GB
• Expansion Slots: SD/MMC card slot up to 16GB
• Wi-Fi Connectivity with Full Web Browsing Capability
• Supports Ebook Formats: Text, PDF, E-PUB, HTML
• Supports Media Formats: MP3, WMA, FLAC, AAC
• Supports most popular E-Book formats
• Picture Viewer in JPEG, BMP
• Video Player
• Rechargeable Lithium Battery
• Carrying case included
Accessories Included
• Leather Carrying Case
• USB Cable (for data transfers only)
• UL Certified AC Adapter
https://www.youtube.com/watch?v=pfha5r6law0&feature=player_embedded

This article may contain affiliate links. Click here for more details.