ViewSonic makes their ViewPad 7-inch Android tablet official
ViewSonic Europe pushed out a press release announcing their new ViewPad 7, a 7-inch Android-based slate leaked about a week ago. Interestingly, in addition to the features of previous Android tablets, it also includes voice calling and access to the Android Market.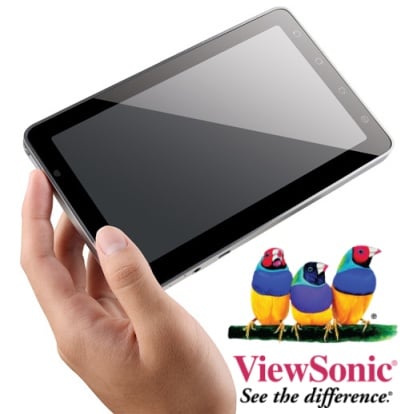 Full press release is copied below. Lacks a lot of key details, such as battery life, screen resolution and weight, but specifies phone functionality and access to "Google Android app store featuring over 100,000 applications." Presumably one would use a headset for voice calls rather than hold the slate up to their head. I also wonder if voice wasn't included just to get access to the market, which has been limited to phones thus far.
Price and availability are not listed, but according to Netbooknews.com it will be available in Europe in October for 350 pounds. That's roughly US$540, but they could price it differently for the States. I should also mention there's a report that the ViewPad is a rebadge, either of the OlivePad tablet from India or from a shared ODM model. If true, then internal storage is 512MB (which explains why they don't list onboard storage capacity) with the same in RAM, screen resolution is 800×480, and battery is 3,240mAh and processor is 600MHz ARM (via Engadget). But even if it is an OlivePad rebadge, that does not mean the specs will be identical. Until more of these holes get filled, I'll file this under interesting but not exciting.
Via Gizmodo
31st August 2010 – ViewSonic Europe ushers in a new product category to its portfolio with the introduction of a premium capacitive multi-touch screen 7″ tablet.

Viewpad 7
The ViewPad 7 is a world's first 7″ Android 2.2 (Froyo) tablet with phone functionality, multi-tasking capabilities and front and back-facing cameras, VGA and 3MP, resolutions respectively.

Within a lightweight, pocket-sized design, this device is ideal for anyone who needs a mobile connection to the world via email and video and wants to enjoy a wide-range of applications.

With full 3G and phone functionality, a full size SIM card slot and integrated Bluetooth connectivity the ViewPad 7 will support instant messaging, text/mms messaging, VOIP and standard voice calls all in a single device.

It features an easy to use familiar interface with a G-sensor that reorients the screen depending on how the device is held and access to the Google Android app store featuring over 100,000 applications.

Additional features includes a Micro SD slot for up to 32GB of storage; Wi-Fi and 3G functionality for web browsing and USB connectivity. It also boasts advanced features including Assisted GPS and an office document reader, along with the capability for hand-written note taking. There is also an e-book reader, when combined with the crystal clear LED screen, makes the ViewPad 7 an invaluable travelling companion.

Superior to other tablet offerings with resistive touch technology the ViewPad 7 incorporates a capacitive multi-touch screen and is a portable, easy-to-use and competitively priced device that will transform the way that consumers read, watch, listen to and interact with media in a mobile environment.

"We are proud to announce another world first at Viewsonic. 3G phone functionality combined with dual cameras gives the ability for use of Android apps to use augmented reality or video calling on the move with the benefit of an excellent 7″ screen" says Derek Wright, European Product Marketing Manager. "The ViewPad 7 is aimed at users who require the 'always on' connectivity they are used to from a mobile phone with a more agreeable screen size for longer term use."

As an Amazon Associate I earn from qualifying purchases.