ViewSonic working on a dual-boot Android/Windows tablet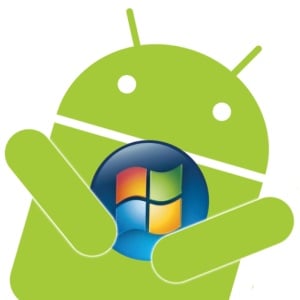 Word out of TechRadar UK is that ViewSonic is set to jump back into the tablet game with both a 7″ Android tablet as well as a 10″ model that will dual-boot Windows and Android.
The debut will reportedly take place at IFA 2010 in just a couple short weeks. ViewSonic was an early player in the tablet market back in the day. They introduced their first slate running Windows XP Tablet PC edition in November 2002. Their rumored new line, however, reaches back to their pre-Tablet PC days by resurrecting the "ViewPad" brand, which included both Windows CE and Windows XP (not Tablet PC edition) slates.
The Android tablet will be called the ViewPad 7 and offer connectivity via Wi-Fi and 3G. It will feature front- and back-facing cameras and have access to "thousands of applications". It is not stated if these applications will come through the Android Market or their own store. Other features include assisted GPS, storage via microSD, Bluetooth, accelerometer and USB connectivity.
The larger 10-inch model is unnamed, but one can guess it will be the ViewPad 10. It is claimed it will use an Intel processor and dual-boot Windows and Android. Not much else is known about this one, including which version of Windows it will run. TechRadar makes the assumption it will be Windows 7, but it should be noted that Microsoft is pushing Windows Embedded Compact 7 as their tablet OS at least for the near-term.
Despite ViewSonic's history with tablets, I will remain cautiously optimistic about news of their dual-boot slate. We have been burned by promises of such devices in the past, which either vaporized or turned out to be not quite as dual-booting as expected. I would certainly trust ViewSonic to deliver on what they promise, but they haven't promised anything yet.
Via Gizmodo