ViewSonic's ViewPad 7x is the World's First 7-Inch Android Honeycomb Slate
At the Computex trade show, ViewSonic announced a 7-inch Android tablet in the form of the ViewPad 7x, which runs Google's Android 3.0 Honeycomb OS on an NVIDIA Tegra 2 dual-core ARM-based processor. This would make the ViewPad 7x the world's first 7-inch Honeycomb tablet as other manufacturers have decided to delay their 7-inch Honeycomb offerings–like Acer with the Iconia Tab A100–until software compatibility with the display size  is resolved.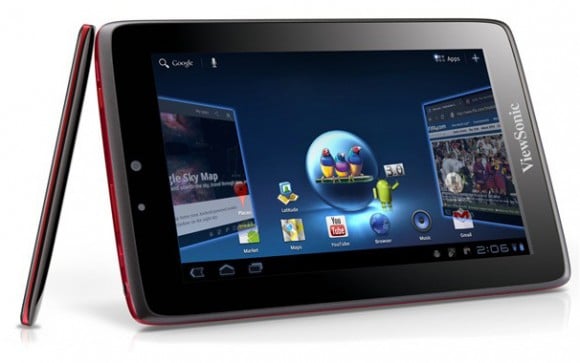 The problem with rival Acer's situation is that some Android apps designed for the higher 1,280 X 800 resolution of 10-inch slates may have issues when running on a 1,024 X 600 display supported on 7-inch devices, like the HTC Flyer, Samsung Galaxy Tab 7-inch, and the ViewPad 7x. It's unclear if ViewSonic was able to work with Google to resolve those issues, or if the company is just going ahead and announcing the hardware at the trade show. The company has yet to announce a release date or pricing for the slate.
Despite the fact that Android Honeycomb does not require hardware Android navigation buttons–those are built into the software and are displayed on the screen now, rather than requiring physical or capacitive touch buttons–ViewSonic had chosen to equip its 7-inch slate with buttons as well. The device sports HSPA+ for 3G/4G mobile broadband connectivity.
Though pricing was not announced at Computex, hopefully ViewSonic will price this tablet affordably. The company's original ViewPad 7 was among one of the most reasonably priced tablets on the market. Hopefully, in addition to aggressive pricing, ViewSonic's aggressive adoption of Honeycomb for the 7-inch form factor will also prompt rivals like HTC and Samsung to offer upgrades for their 7-inch slates.
Via: SlashGear

As an Amazon Associate I earn from qualifying purchases.