Viliv Shows Off Android X7, X10 Android Tablets (Video)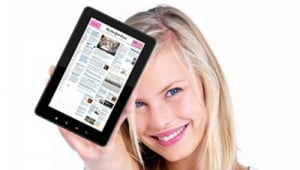 Viliv was showing off its wares at the Consumer Electronics Show and we had some time with the Android-based tablets, which the company is boasting as having the longest battery life on an Android slate device. There will be two models, the X7 and X10, both of which offer similar specs and experiences except the X10 will come with a larger display. Viliv says that it is in talks with U.S. carrier Sprint to potentially deliver a carrier-subsidized version of the Viliv X7 to the U.S. market, which is a big win for the company if that pans out; despite making great hardware, Viliv still has a relatively small presence in the States outside of the tech community for its MID, UMPC, and tablet devices.

As an Amazon Associate I earn from qualifying purchases.