Viper Brings SmartStart Technology to Home Alarms
Viper, which makes an app and the required hardware to remotely start, lock, and arm your car with your smartphone, has teamed up with Alarm.com to let smartphone users also manage their home security system remotely.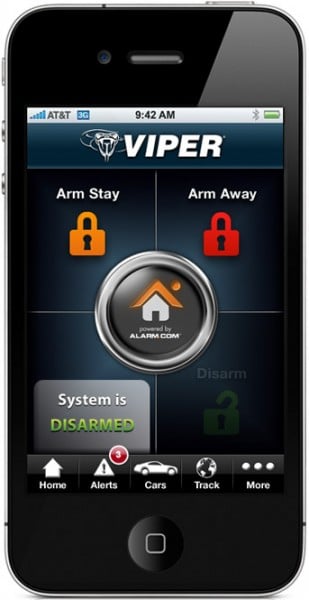 The app, which is downloadable right now, is in version 2.2. To switch between controlling your car or your home, all users would need is to flick their wrists. In the home security control screen, users can now arm or disarm their home alarm with their iPhones, Android smartphones, or BlackBerry devices.
A quick flip of the wrist toggles between the car control and home control screens in the Viper SmartStart app. With the integration of the industry leading interactive security services from Alarm.com, users can now arm and disarm their home security system with one touch using their smartphone.
The home security integration does require a compatible home system from Alarm.com, and with remote car unlocking and starting, and now with home alarm arming and disarming, smartphones are beginning to replace traditional keys for two important pieces of our lives–our homes and our cars.
With NFC, or near field communications, technology in the future, we can also expect to see smartphones replacing our wallets. Our converged mobile life will begin to be free of keys, credit cards, and wallets just as long as we have a smartphone on us, granted that smartphone has to have enough juice to perform those functions until the next recharge.
Via: IntoMobile

As an Amazon Associate I earn from qualifying purchases.