Virtua Tennis Challenge Serves Up Fun on iPhone, iPad & Android
Anyone that owned a DreamCast remembers Virtua Tennis.
Starting Today, Virtua Tennis is available for the iPhone, iPad and Android smartphones. The new mobile version of Virtua Tennis doesn't miss a serve and so far it's love-love at first play.
Virtua Tennis Challenge launches in time for the French Open, but you don't need to be a fan of watching tennis to enjoy playing this fun Tennis arcade game on your iPhone.
The app uses gestures to control shots for topspin attacks and sneaky slices.
Check out the Virtua Tennis Challenge action in the video below;
Virtua Tennis Challenge includes 50 different players and 18 stadiums with a variety of court types.
Both iPhone and Android versions of Virtua Tennis Challenge support SPT World Tour mode, exhibition and both singles and doubles matches. All versions of the app allow multiplayer over Bluetooth.
Virtua Tennis Challenge for iPhone and iPad allows multiplayer over WiFi, Quick Match mode and Training mode.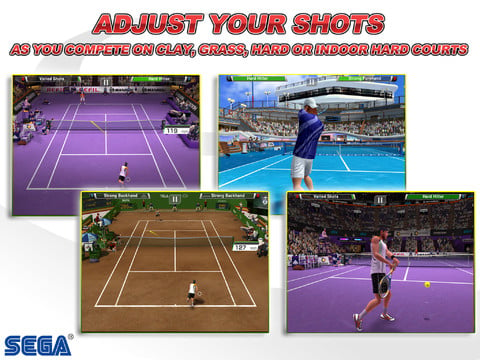 So far the game is easy to pick up on, and lends itself to touch very well. The game is fun to play and Sega nailed the sounds, even if it is easy to muffle the speaker as I adjust grip on the iPhone.
Training mode provides fun challenges, while the opponents in the World Tour offer varied skill levels and strengths to deal with.
We'll have a full review of Virtua Tennis for the iPhone and iPad up in the next few days. I'm impressed with the performance on the small screen, and look forward to playing on the iPad soon.
Virtua Tennis Challenge is $4.99 in the iTunes App Store and Google Play.

As an Amazon Associate I earn from qualifying purchases.