Vizio M Series Quantum (2019) Review
The Vizio M Series Quantum delivers great picture quality, with deep blacks and accurate, vibrant colors that look great when upscaling HD shows and when viewing 4K HDR content. With Google Cast and AirPlay 2 built-in, this is a Smart TV that's ready to go right out of the box.
The Vizio M558-G1 is a good value at $799, but it's an even better value at the sub $600 sale price that it is routinely sold for at Amazon and Best Buy. This is incredibly cheaper than what you'll pay for a Samsung QLED TV, and for many buyers, it could be a perfect fit.
Just make sure you buy the Vizio M8, which is the model I tested. The M8 models feature more local dimming zones and are brighter than the Vizio M7. The M7 offers the same smart features, resolution, and inputs.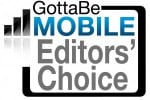 The Vizio M Series Quantum earns a Gotta Be Mobile Editor's Choice Award for delivering insane value with great picture quality at a price anyone can afford, smart home controls with Siri, Alexa and Google Assistant support and the ability to use AirPlay 2 an Google Cast.
To test the Vizio M Series Quantum I put it to the test watching 4K Blu-Ray movies and playing games on the Xbox One X as well as watching movies on an Apple TV 4K.
Thanks to the improved SmartCast 3 Smart TV features, it's easy to play content from your phone, an Oculus Quest or to watch your favorite iTunes and App content from your iPhone.
[letsreview]
Vizio M Series Quantum Design
The Vizio M Series design is minimal like I see with most 4K TVs. Slim bezels on the top and sides and a slightly thicker bezel on the bottom edge. There are thin stand legs that look nice and offer a stable base. You will need a wide table for this TV as the legs are at the far edges of the TV. The overall build quality is good, and it is easy to get the TV out of the box without damaging anything.
You can also easily wall-mount it, as I've done. The thickness is middle of the line, and it mounts to the wall easily without sticking out too much. Even when wall mounted it is easy to access the inputs.
All inputs are on the right-hand side of the TV with inputs to the side and to the bottom. The power cord is on the left side. There is no built-in cable management, so you will need to invest in some cable management.
You get four HDMI ports, all of which are HDMI 2.0. One of these is an HDMI ARC port that you can use to connect to a soundbar. There is no HDMI 2.1 support or eARC support, but that's not a major issue at this price point.
The remote is easy to use and capable, but it's not backlit and it's not easy to use in the dark. While it's not as simple as the TCL Roku remote or as fancy as Samsung's remote, it does include number buttons to easily go direct to a channel, which will appeal to users who still watch Live TV with cable. You can also use the Vizio app on your phone to control the TV.
Vizio M Series Quantum Image Quality
The Vizio M Series Quantum imager quality is great. The 2019 M Series Quantum delivers great blacks, very good colors and the local dimming performance is good. The TV is 4K and supports HDR10, Dolby Vision and HLG.
I primarily use this TV in a game room where I have full control over the lighting. The deep blacks really impress when watching with the lights low, but the picture is also good while watching sports or a movie with a group and more lights on in the room.
I tested the 55-inch M8 series that includes 90 local dimming zones and 600 nits peak brightness. The M7 series only offers 16 local dimming zones. The more local dimming zones, the better. This allows the TV to keep a bright area bright while achieving greater contrast with dark areas of the screen.
The brightness of this model is good, and it is bright enough to use in a well-lit room. I found the HDR performance very good for the price. If you want to see HDR really pop, consider upgrading to the P Series Quantum.
This TV doesn't offer great wide-angle viewing, so if you need a TV that can handle a super wide seating area then you will want to keep shopping. It's good enough for our game room setup or our living room, but we don't have seating at any extreme angles.
Vizio M Series Quantum Smart Features
The Vizio M Series Quantum includes SmartCast 3.0, which is an upgraded smart TV experience from what previous models shipped with.
It isn't the fastest smart TV software, but it is relatively easy to use and it comes with all the apps that we want on our smart TV. This includes Hulu, CMS All Access, Netflix, YouTube many cable channel apps, sports apps and more. There's a good chance that you won't need to hook up anything extra if you just want smart TV features and streaming. The streaming supports 4K and Dolby Atmos.
This software also supports AirPlay 2 and HomeKit. This makes it easy to watch movies from apps on your iPhone or iPad, share photos and you can even control your TV with Siri.
Google Cast is also built-in allowing you to stream a variety of apps on iPhone or Android wirelessly.
In addition to Siri, you can use Alexa or Google Assistant to control your TV. The options allow you to play a specific show or movie, show photos from your account, turn the volume up or down and turn the TV on and off.
WatchFree is a free streaming service built into the Vizio SmartCast 3 software. With this service, you can tap into over 150 free channels. These include movies, news, sports and lifestyle programs. The range is impressive for a free service and while it isn't replacing cable for me, it may be just the bonus you need in addition to a service like Hulu + Live TV.
Gaming on the Vizio M Series Quantum
The Vizio M Series Quantum is great for gaming thanks to a low input lag. The performance is good with HD and with 4K HDR gaming, making this an excellent option for gamers.
You can enable Game Low Latency and also turn on Black Frame Insertion with the Clear Action setting to get a clearer image while gaming.
The Vizio M Series works as a computer monitor thanks to the low input lag and you don't need to change settings other than to set the Picture Mode to Computer and turn on Full UHD color.
With the 55-inch I am able to sit a little closer to the TV on a gaming chair and really get into the game.
Vizio M Series Quantum Sound Quality
The Vizio M Series Quantum sound quality is better than I expect on a TV, but you'll really want to hook this up to a soundbar or dedicated sound system. I'm testing it alongside the Vizio 5.2.4 Dolby Atmos soundbar which is an impressive boost to sound.
When I play games, I normally use gaming headphones for better positional sound in games.
Last update on 2023-06-05. This post may contain affiliate links. Click here to read our disclosure policy for more details. Images via Amazon API