Vizio to Enter Smartphone, Tablet Market with Affordable Products at CES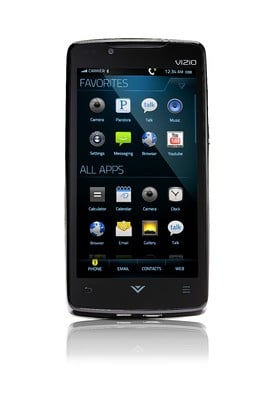 Vizio, which has made a name for itself creating affordable television sets, is looking to expand its consumer electronics portfolio with smartphones and tablets using the same low cost strategy. To tackle the growing smartphone and tablet market, Vizio will be using Google's Android operating system to power the company's products.
Although pricing was not disclosed, the products that Vizio has previewed to WSJ come with some high-end features, such as front-facing camera, high resolution screen, and video capture capabilities.
Vizio's strategy may pay off in a highly competitive market segment if the company can achieve its goal to "provide the best that's out there to your typical Wal-Mart shopper," according to chief technology officer Matthew McRae.
In order to accomplish this, the Via Phone, Vizio's first Android smartphone, will have a 4-inch screen–aimed squarely at the Galaxy S smartphones, albeit without Samsung's Super AMOLED display technology–a front-facing camera, rear 5-megapixel camera with video capture capabilities. It's tablet will have an 8-inch display with a high resolution screen, three speakers, WiFi, and front-facing camera.
At this time, it's unclear whether Android Honeycomb, Google's first version of the mobile operating system that will be made for tablets, will be included on the 8-inch slate.

As an Amazon Associate I earn from qualifying purchases.