Vizio's $300 8″Android Tablet Hits Stores Today
Watch out Nook Color. The new 8″ Vizio Android tablet is looking to take over the affordable Android tablet space with a $299 price tag and modest specs.
We'd heard about the Vizio Tablet back in January at CES 2011, and now, 8 months later it is finally hitting shelves at popular retailers like Amazon, Sam's Club and Walmart.
This Android tablet is lacking Honeycomb, which powers most new tablets, but it is rocking Gingerbread, which many users load on to the Nook Color to make a cheap Android tablet. Will the Vizio Tablet be able to woo consumers and interest tinkerers?
Rather than run Honeycomb, which you'll find on tablets like the Samsung Galaxy Tab, the Vizio tablet runs Gingerbread, commonly found on phones and on the HTC Flyer Android tablet. I'm guessing many consumers will not know about this difference, but for $300 many of them may not care.
The Vizio Tablet has a 1 GHZ processor, 8″ LED LCD with 1024 x 768 resolution, 512MB RAM and 4GB on board memory and a Micro SD card slot that supports up to 32GB cards. The tablet has three speakers which automatically adjust based on how you hold it to deliver stereo sound.
The Vizio Tablet has one thing you might not expect to find in a tablet these days, an IR port like you normally find on the end of your TV remote control. The IR port teams up with the included universal remote ap to let you control almost any device in your home theater.
Users will have access to the Android Market and to Vizio Internet Apps Plus, which is similar to the apps found on your HDTV.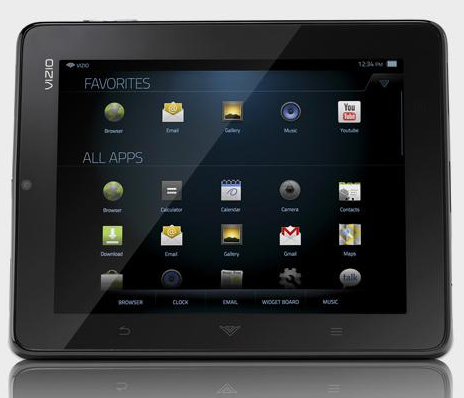 While many consumers want an iPad, the price is still out of reach for many users who want it as a companion device. Vizio has the potential to answer the call for a cheaper tablet if the finished product delivers a usable experience.  Unlike the Nook Color, which must be hacked to act like a full tablet, the Vizio Tablet is a full fledged tablet, even with a phone OS. Users will be able to watch video, surf the web, check email, read ebooks and much more on the 8″ tablet.
You can find the Vizio Tablet for $299 at Sam's Club, Walmart, Costco, Amazon and other retailers. Currently the tablet is $329 direct from Vizio. You can also purchase a bundle with a case and a stylus for $369.

This article may contain affiliate links. Click here for more details.