VMware Demonstrates Virtualization on an Android Smartphone
At Mobile World Congress, VMware was demonstrating its virtualization technology on an Android smartphone, which allows multiple smartphone operating systems to be run simultaneously at the same time, not to be confused with a dual-boot solution that boots into either operating system separately. This will allow users to have their personal smartphone also serve as a business or enterprise smartphone.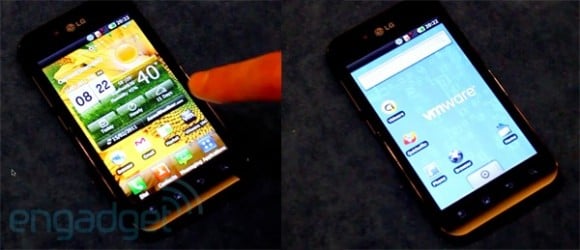 The demonstration took place on the LG Optimus Black smartphone where the consumer Android operating system is the one that ships with the phone. Here, you can store all your personal information–including your personal appointments, contacts, notes, and emails. Then, you can use VMware's virtualization technology to place a full Android OS onto a storage card–like an SD or micro SD card–and have that run at the same time as the Android OS that came pre-loaded with your phone. In this way, the secondary OS runs like an app or any other program, and IT managers can manage the settings so you can have your Exchange emails, work apps, and any other content or information required by your corporate heads.
By running dual OSes simultaneously, IT managers can manage the work OS without the user being concerned about personal information or data. This will allow the user to just carry one device–rather than having a separate work and personal phone–and not have to co-mingle work and pleasure on the same device.
The video of the demonstration is available at Engadget.

As an Amazon Associate I earn from qualifying purchases.