Voice and Mobile: When Will It Take Centerstage?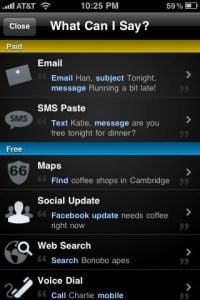 I have spent quite a bit of time in my car lately,  traveling back and forth to our state capital advocating on behalf of arts funding and also visiting my mother who is terminally ill. (For those who have asked, thank you for doing so. She is doing as well as can be expected at the present and her spirits are really high. She continues to teach my sisters and I quite a bit about living life.)
My mother lives in Richmond which is Virginia's capital city, so I'm able to combine some business with family visits on the trips. It is about a 2.5 hour drive one way. That is a big junk of time during which I can't rationalize not getting some work done. So I schedule phone meetings and calls during my drive time when I can.
Several things defeat these attempts at using this time productively. My staff has gone text message crazy of late as have my sisters and my wife, and I'm religious about not not texting while driving so I'm frequently calling them back and begging them to please just call. I also receive quite a few emails while traveling and if I stop for gas or a potty break, I'll answer what I can before getting back on the road, but otherwise they sit and wait for a response.
I've seen several solutions popping up lately that allow you to send a text or an email using voice technology (Vlingo just updated its iPhone app and includes a paid service for each of these functions). I still use an iPhone, and I hear some stirrings that voice is better integrated in the latest version of Android phones. I've tried and still use the Dragon Search and Dragon Dictation apps or the iPhone as well as the voice search features in the Google Mobile app. I'm also liking experimenting with Siri app, which aims to be a sort of virtual assistant. It uses Nuance's technology and of course that's the technology behind Dragon as well. But in all cases I still have to touch the screen to make any of these work. I find that frustrating and ironic. Here we are in an age wherein we have a veritable explosion in mobile phone technology, yet voice still is taking somewhat of a supporting role in how we interact with these phones.
With all of the excitement of Windows Phone 7 Series being announced not long ago, it was curious that there was no mention of voice (at least as far as I could see) in terms of an input method. Again that strikes me as odd given that the existing Windows Mobile has an excellent solution with Voice Command.
In my personal usage scenario I prefer a Bluetooth headset (I know many don't) and the drawbacks of using a Bluetooth headset with an iPhone is frankly, it just doesn't work that well, if at all in most circumstances. Part of that is the Bluetooth stack, I'm not sure what the rest of the issues are. I know that some are comfortable using traditional headset/microphone options to communicate with their smartphones, but that doesn't work for me.
Again, the irony for me is that here we have what is essentially a gadget(s) geared for voice, but beyond phone calling the technology to use other functions on these devices is lagging. I don't know. Maybe I'm asking too much here, but it seems to me that it only makes sense to be able to have more control via voice over these mobile devices without having to touch the screen to activate them. I would think that means making it a core part of the OS with APIs that allow apps to hook into those controls.
Your thoughts?

As an Amazon Associate I earn from qualifying purchases.