Wait for Samsung Galaxy Nexus Car Dock Continues in U.S.
The highly anticipated Samsung Galaxy Nexus car dock will be hitting the United Kingdom this month after a five month wait.
Retailer Clove UK has confirmed that the car dock for the Galaxy Nexus will be arriving on May 22nd months after the Samsung Galaxy Nexus officially launched in the United Kingdom.
Clove UK will be selling the car dock for £41.66 when it goes on sale and supplies are surely going to be limited at this is an accessory that Galaxy Nexus owners have been wanting for quite some time.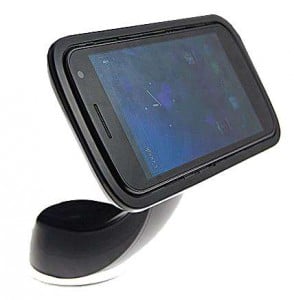 The Galaxy Nexus car dock will allow owners to mount the device on the windshield of a car which allows for easy media watching as well as a secure place to keep the phone while it's playing music.
Read: Five Months With The Verizon Galaxy Nexus.
Unfortunately, Clove UK has shed no light on when customers in the U.S. who own the Galaxy Nexus on Sprint or Verizon might see the car dock arrive.
Still, the official release of the accessory is a good sign that Samsung is finally making progress in getting this accessory to customers, even if it's five months after the fact.
Of course, this isn't the only problem that Galaxy Nexus owners in the U.S have faced. Verizon Galaxy Nexus owners have been dealing with another big issue for the past five months.
Read: Wait for Galaxy Nexus Android 4.0.4 Update Gets More Bizarre.
Since launch, the Verizon Galaxy Nexus has yet to receive an update from the carrier even while owners have been plagued with a host of bugs.
Verizon has yet to confirm a roll out date for the update for the software although the update has shown up on Galaxy Nexus devices in Verizon retail stores.

As an Amazon Associate I earn from qualifying purchases.