Walmart Black Friday 2013: Are Guaranteed In-Stock Items Worth Buying?
Walmart's in the midst of promoting its Black Friday deals through a massive ad campaign that includes spots during nationally televised football games. Walmart is differentiating itself from the competition by guaranteeing that 21 of its best deals will be available for at least an hour after the Black Friday sales kick off.
Retailers used to brag about opening in the early hours of Black Friday, moving opening hours from 5am to midnight. Apparently that's not good enough anymore and Walmart is opening its doors at 6pm on Thanksgiving to shove customers in the door for the unofficial start of the holiday shopping season.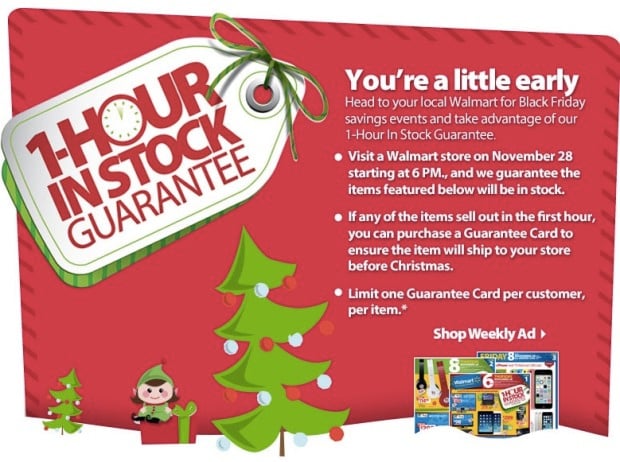 But are Walmart's guaranteed in-stock deals actually worth skipping Thanksgiving dinner for? We took a look at each of the items Walmart is guaranteeing to be in stock for the first hour of its Black Friday sale and it's a mixed bag to say the least. While Walmart is widely advertising that more than 20 items are guaranteed in stock, that number is a bit debatable. Walmart is guaranteeing five video game titles will be in stock at discounted prices, but double counting them by offering up Playstation 3 and XBox 360 versions. That means nearly half of the guaranteed in-stock deals are meaningless to those that don't play games or that have moved on to the Playstation 4 and XBox One.
It's also important to note that Walmart isn't exactly guaranteeing shoppers will be able to walk away with the its guaranteed in-stock purchases on Thanksgiving. If a Walmart store sells out of any item, shoppers can purchase Guarantee Cards and Walmart will ship it to that retail location for customers to pick up before Christmas.
The biggest issue with the Guaranteed In Stock scheme is that Walmart is only allowing customers to purchase one Guarantee Card each. While it's certainly understandable why Walmart would want to limit how many of the big-ticket items people could buy, there are perfectly legit reasons why people would want to purchase multiples. For example, someone may want to score deals on the same games for multiple family members.
Read: Best Walmart Black Friday 2013 Deals
Here's a breakdown of each of Walmart's 1 Hour In Stock Guarantee tech deals:
iPad mini Black Friday Deal at Walmart
Walmart has the best iPad mini deal this Black Friday. The 16GB iPad mini is last year's model that doesn't include Apple's Retina display, but it's $100 cheaper than the newer model at $299. That $299 price tag might not sound like a deal at all  considering that's the device's MSRP, but Walmart is throwing in a $100 gift card, making it cheaper than Google's Nexus 7, which goes for $229. Just remember that you'll have to shell out the full $299 plus tax to get the $100 gift card and you can't apply it to the purchase of the iPad mini.