Want the Samsung Galaxy S Blaze 4G? Get It At Costco
Yesterday, T-Mobile launched another HSPA+ 42 device into its stable, a device called the Samsung Galaxy S Blaze 4G. It's a device that has some pretty nice specifications on board – a Super AMOLED display and a dual-core processor to name a few – and while T-Mobile is asking for over $100 for it, Costco has a fantastic deal on it where customers will only have to shell out $69.99.
That's a fantastic deal for a smartphone that's only been out for a day and what makes it even better is that there are no mail-in rebates involved.
T-Mobile is offering the device up for both $119.99 and $149.99 and both prices come after a mail-in rebate. If you're like me, you're prone to forgetting about those from time to time so you'll definitely want to think about this deal.
What makes this offer even more intriguing is that it extends to new customers, those who are upgrading, and those adding a new line.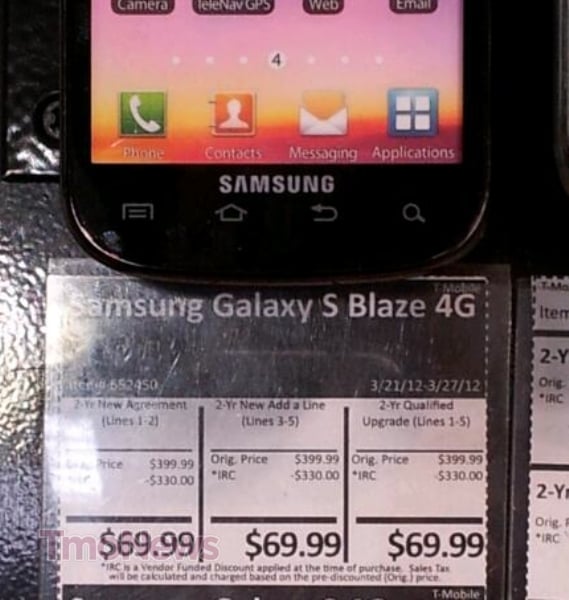 Clearly, Costco is where you should be looking if this is a device that is currently on your radar.
The Samsung Galaxy S Blaze 4G isn't a next-generation phone but it does offer some likable things. It has a 3.97-inch Super AMOLED display, a 1.5GHz dual-core processor, and a 5MP camera with LED flash.
And while it will arrive with Android 2.3 Gingerbread, it will likely be getting a boost up to Android 4.0 Ice Cream Sandwich in the future.
When?
We have absolutely no idea but it would be crazy not to see T-Mobile upgrade it to Google's latest and greatest.
Via: TMoNews