Watch ABC Live Streaming Now Limited to Cable Customers
The Watch ABC live streaming feature available to users in a few large metro areas now requires a cables subscription. This takes the app in the wrong direction, protecting cable companies instead of benefitting the end user.
The Watch ABC app set a new precedent when it began offering live television streaming through their free iPad, iPhone and Android apps. Users could enjoy the app without a cable subscription in New York City and Philadelphia. Cable cutters loved the app since they could get access to live TV without paying. That now ends, according to Associated Press.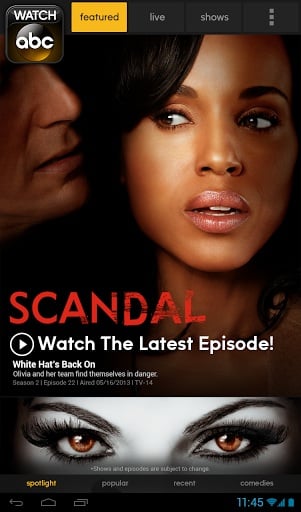 The Watch ABC app will add some new locales with an update released July 1. Users with cable subscriptions can enjoy the service in LA, Chicago, San Francisco and Raleigh-Durham, NC in addition to New York and Philadelphia. That's just six of the 200 ABC markets.
Users will need to prove they subscribe to the following cable services:
Comcast
Cablevision
Cox
Charter
Midcontinent
AT&T
It covers more markets, but ABC obviously succumbed to pressure from the cable providers who don't want viewers to watch any channels on their list of offerings without paying.
People who don't subscribe to these services can still enjoy the on-demand feature of the app. It lets users watch past shows streamed live.
Cord cutters want to enjoy live streaming of television without paying for a huge collection of channels they will never use. Services like Watch ABC or other TV apps let them do this. However, few offered live TV. That's the only way to get most of the popular live sports or special events like the Oscars.
Aereo is one service that makes it a bit easier in some markets, like New York City, Boston and Atlanta. The company "rents" TV antennae in these markets and lets users watch TV live through the Internet. This requires a subscription.
People can often watch on-demand content online through a computer. These sites often get blocked on mobile devices like smart phones or tablets. A number of apps and services do allow for some limited viewing via mobile devices, but not enough.
On-demand TV and live-streaming TV looks like the future, but cable providers resist this movement since it disrupts their business model.

As an Amazon Associate I earn from qualifying purchases.