What is Vine? Twitter's New Video Sharing App
Today Twitter introduced its new way to share video online with the Vine app for iPhone.
Vina is a new way to share video in six second clips to Twitter and Facebook. The service features its own app with its own timeline, but can automatically link to Twitter and Twitter cards because Twitter owns the company.
The Vine app isn't too different from apps like Instagram in that it shows a timeline of short videos from people users follow. That's where the comparison ends, however. Vine gives users a six second time constraint, but doesn't let them edit the video after it's taken. The app also doesn't let users import video from their camera.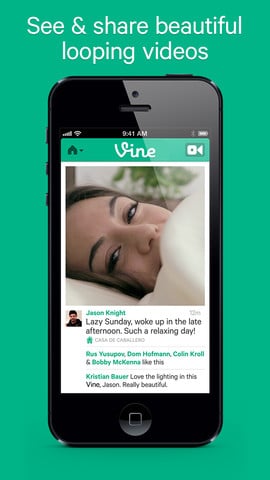 When shared on Twitter, Vina videos appear in Twitter cards, just like photos hosted on Twitter. The videos play automatically, but lack sound. Once the six second video is over, it just loops back to the start.
Without sound it's hard to tell when the video stops and ends because Vine encourages users to take multiple shots. That means users will likely have to watch the video more than once after turning on the sound to get the full message.
In the Vine app videos play automatically with sound until the user either scrolls down to the next one, or taps on the video that's playing.
Cooper speaks. Mac stretches. vine.co/v/b5HnrvpiKpA

— Josh Smith (@Josh_Smith) January 24, 2013
To capture video users just have to press on the screen when they want to record. There's no record button, which makes it easy to record the video without worrying about keeping a finger on a virtual button. After the video's recorded users can give it a name and share it to Vine, Twitter and Facebook.
There are other short video services available, each with their own time limits, but none that link directly to Twitter. Other such apps include Socialcam which was popular for a few weeks last year and Tout which is available on iPhone and Android and has celebrity users such as Larry King and a number of WWE wrestlers.

As an Amazon Associate I earn from qualifying purchases.