What to Do When the Windows 10 Start Menu Won't Open
Microsoft has spent what feels like a lifetime trying to get the Start Menu right. In Windows 7, the Start Menu was solid; it provided deep links to files that you commonly used, had a search utility and was very mouse-friendly. With Windows 10, Microsoft once again introduced a version of the Start Menu that was mouse-friendly, but there's a twist. Windows 10 users can also turn that Start Menu into a giant Start Screen with Live Tiles and deep links to their favorite Windows Store apps. There's one problem that keeps rearing its ugly head with Windows 10, despite recent updates. The Windows 10 Start Menu won't open for some people.
Read: Windows 10 Upgrade Problems & How to Fix Them
Sometimes the Start Menu not opening is temporary. After a few moments, Windows 10 catches up with itself and fixes whatever issue is happening in the background. Other times, the Windows 10 Start Menu won't open for days, weeks or permanently. When that happens, your Windows 10 device basically become a paperweight.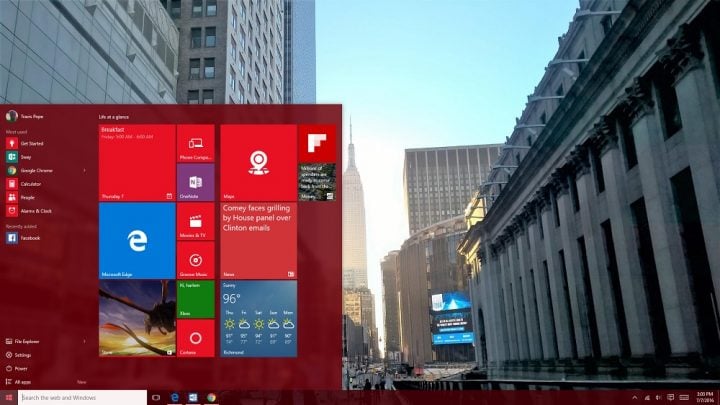 Read: Windows 10 Review – A Love Affair
If the Windows 10 Start Menu won't open for you, it's time to go troubleshooting. Luckily, a mix of tips from Microsoft itself and tricks from other users that have had the problem should fix your issue.
Windows 10 Start Menu Won't Open: Try Restarting
The first thing that you should do whenever you have any kind of issue with Windows 10 PCs is save your work and restart your machine. Of course, it's hard to restart your PC when you can't get the Start Menu to show up in the first place
Hold down the Power button on your device to force it into a complete shut down. Then press the power button again.
This trick is particularly helpful when you're dealing with a temporary Start Menu issue, for example, your Start has just failed to load, but always loaded correctly in the past. Note that some devices have different button combinations for forced shut down.
Windows 10 Start Menu Won't Open: Check for Updates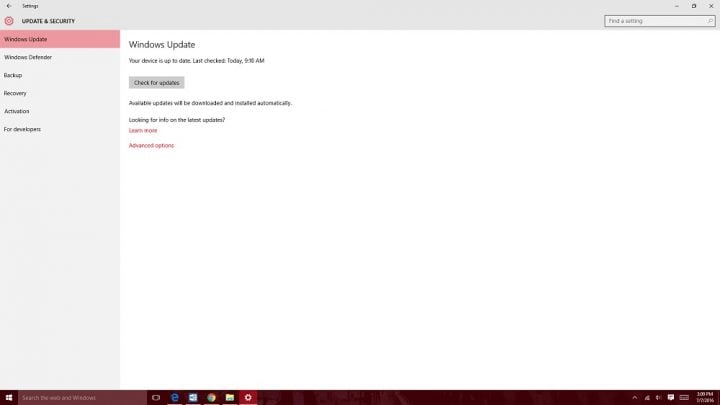 It's possible that Microsoft might have already fixed the problem preventing your Start Menu from opening, but you haven't gotten the necessary update yet.
If you suspect that might be possible, press the Windows Key on your keyboard and the R key at the same time. Now type into the text field, ms-settings. Click on OK.
Select Updates & Security, then click on the Check for Updates button in the Windows Updates screen. If there are any pending updates, they'll download. You may have to restart your device after letting updates run.
Windows 10 Start Menu Won't Open: Start Menu Troubleshooter
Plenty of people running into the Start issue are coming forward even today. That's despite Windows 10 having launched almost a year ago. Microsoft is aware of the problem though. The company has updated Windows 10 to fix what it can. On the off-chance that the updates don't fix the issue, the company has also introduced the Start Menu Troubleshooter.
Download the troubleshooter tool from Microsoft's support website with your web browser, then right-click on it in your Downloads folder and select Open. The tool includes software fixes to prevent the Start Menu issue. Note that this tool should also fix any problems that you are having opening Microsoft's Cortana personal assistant too.
Windows 10 Start Menu Won't Open: Creating Another Account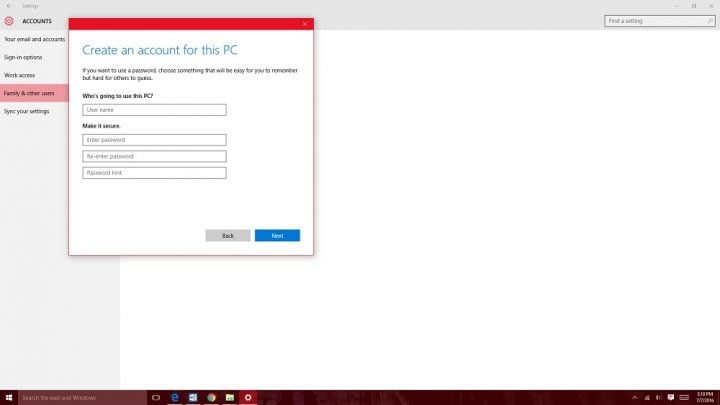 Just in case the problem you're seeing with your Start Menu is related to your specific account, try creating a Local Account that you can use on the same PC. This will allow you to see if it's a problem with Windows or something specific to your account.
You can create new accounts in the Settings app in the Accounts screen. Click on the Family and Other Menus option. If this is successful, you may want to look into turning this second Local Account into your main account by moving your files over to it and setting it up with your Microsoft Account. During the account creation process, be sure to click the text that says, "I don't have this person's sign in information."
Windows 10 Start Menu Won't Open: Try Resetting
If all else fails, Microsoft says that it is time to reset the Windows 10 installation and try all over again.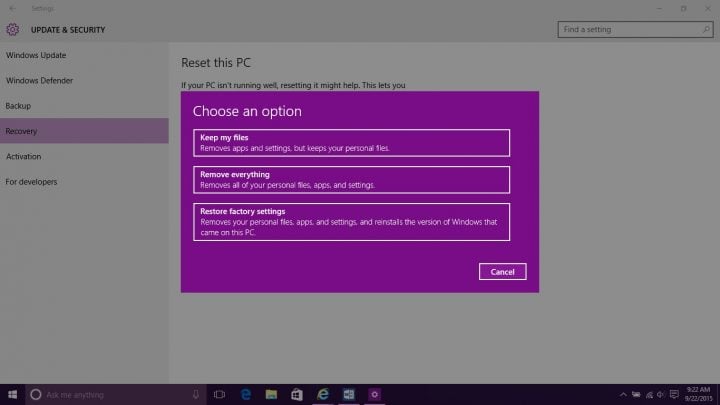 Read: How to Reset Your Windows 10 PC
You can do this in the Updates & Security area. The option is in the Recovery menu. Before doing this, make sure that you've backed up any photos, videos pictures and whatever else you'd like to keep from your account. This is just a precaution; if you have enough free space, Windows 10 will ask you if you'd like to delete everything during the installation or keep your files. Note that the Keep Your Files option doesn't bring installed Desktop programs – like iTunes – back. You'll need to reinstall anything not available in the Windows Store on your own.

As an Amazon Associate I earn from qualifying purchases.