What to Do When Your Windows 10 PC Has a Virus 
We all like to delude ourselves into thinking that a virus infection can't happen to us. We pay for rather expensive software packages that update themselves every year. Our web browsers have blocking features that attempt to prevent us from open a suspicious website or downloading a questionable file. None of that matters, even if you have Microsoft's Windows 10 operating system installed on your computer. We're all just one bad left-click away from having to take our PCs to a store to be scrubbed.
We don't all know what to do when our Windows 10 PC has a virus, but we all know the symptoms. One day you're browsing websites and checking your email. After opening the attachment in one of your emails, your computer slows to a crawl. Things that you were able to do easily suddenly stop working correctly. Your browser's homepage has suddenly changed. Pop-ups surface whenever.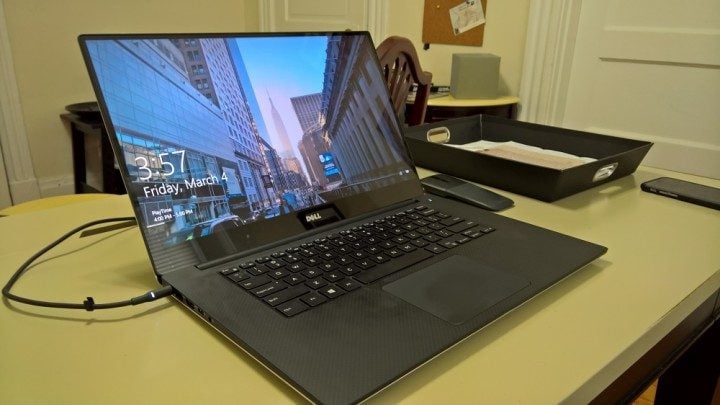 It's time to settle down and meet the challenge head on.
Confirm that Your Windows 10 PC Has a Virus
Right now, you suspect that you have a virus. Before taking any additional steps, you need to confirm that's what's going on with your PC. Sometimes things happen to our PCs that create the same symptoms that a virus does. You could have installed an app that uses pop-ups in a legitimate way. A recent update that you installed directly from Microsoft's servers could have ruined your device's performance somehow. You've got to be sure.
You need to scan your Windows 10 PC with the virus protection and internet security suite that your manufacturer provided with it. The security suite will search the files on your computer, looking for things that are suspicious. Most PC makers install Norton or McAfee.
Keep in mind that you're not out of luck if there's no security software installed or your free trial has expired. Windows 10 includes a security scanner of its own, called Windows Defender. Defender is free to use – but is turned off when there's security software already installed. Uninstall the old software with the trial. Now activate Windows Defender.
Read: 20 Windows 10 Tips & Tricks from A Fanatic
You can access Windows Defender from the Settings app. Look for it under Updates & Security. 
Attempt to Contain or Remove the Virus on Your Windows 10 PC
If all the tests come back positive, you've got to move quickly. Do not hold off dealing with a virus on your PC. Also, you shouldn't continue using that PC for any sensitive information. Now is also a good time to confirm you have backups of all the important things stored on your PC.
Virus protection suites offer you two options when dealing with a virus. You can either try to contain the infection or remove it entirely. Automatically, infected files that are detected should be quarantined by your protection software. If that isn't the case, attempt to manually quarantine it. If it's a file you recognize and don't need, It's a good idea to outright delete through your security program.
You could skip all of this and take your Windows PC to a service. That isn't cheap though. Best Buy's Geek Squad charges as much as $149 for virus removals. If you already have an agreement with a service to remove malicious software and take care of your PC, go ahead and avail yourself of that service. Also consider taking your PC to a friend or family member that has more experience with this sort of thing. In either situation, you want to make it clear to whoever you're trusting to fix your PC whether they have permission to delete your files or not.
If All Else Fails, Reinstall Windows
It's a good idea to clarify whether you'd like to keep your data because there are cases too severe for your installation of Windows to recover from. You could do everything right in cleaning up the infection and still find your computer behaving strangely.
You're going to have to reinstall the software on your PC, completely. Track down backups of your essential files now. While you're at it, look for the installation media to any programs that you've installed. Apps downloaded from the Windows Store can be restored from there once you've cleaned up your PC, if it comes to that. Programs – like Microsoft Office and Chrome – won't be on your PC.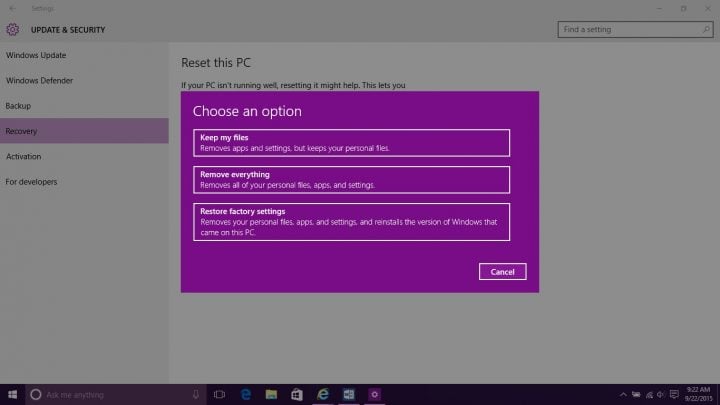 Be sure that your Windows 10 PC is connected to a power outlet. Open the Settings app from the Start menu/screen. Tap or click on Update & Security. Select Recovery from the menu on the left.
Read: How to Reset Windows 10 Notebooks, Desktops & Tablets 
Look for the Get Started button under Reset This PC. The wizard will guide you through reinstalling Windows. There are two options, one that gets rid of everything on your PC and another that reinstalls Windows 10 but leaves your files in the same place. Use the latter option to attempt to remove the virus. The backups you tracked down are in case that option doesn't work and you need to remove everything including your files.
Good luck trying to fix your Windows 10 PC.

As an Amazon Associate I earn from qualifying purchases.