Where to Get the Free Windows 10 Upgrade Installed
If it feels like you've read whispers about a free Windows 10 upgrade for a year or so, it's because you have. Microsoft first showed what we'd come to know as Windows 10 last September. Since that time the company has worked on the operating system in full public view. Now, it's in the home stretch. The operating system is complete. Microsoft plans to begin rolling it out to users in just three days.
How you can get the free Windows 10 upgrade is pretty straight forward. In an effort to build market share and get PC owners using its services and apps, it's made Windows 10 free to download to Windows 7 and Windows 8.1 PCs. Where to get the free Windows 10 upgrade installed is the big question everyone is asking right now.
Read: What is Windows 10?
Microsoft is partnering with retail stores around the world to offer free Windows 10 upgrade installs. Sure, users can install it at home, but there are those who'll never do that. Some people are comfortable with installing operating system upgrades, no matter how straight forward they are. Others aren't keen on using their limited bandwidth to download what is a essentially a 4GB file. Taking your Windows PC to a store to get the upgrade working could be a good idea for you, depending on your circumstances.
Microsoft Stores
Scattered across the globe are Microsoft Stores. The US, Puerto Rico and Canadian Microsoft Store locations plan on having parties and free workshops to celebrate the launch of Windows 10. Giveaways, refreshments and more are planned for July 29th, the Windows 10 release date.
If you're someone looking to have the free Windows 10 upgrade installed by someone else, the Microsoft Store has something for you too. Anyone who brings their computer into the Microsoft Store will get a free upgrade assessment. This means that Microsoft Stores will tell users whether their notebook, desktop or tablet is eligible to upgrade to Windows 10 and if upgrading will cost them any essential programs.
If you are comfortable with Microsoft Store associates installing the update for you, they'll be able to do that too. Unfortunately, it doesn't appear to be free there.
If your PC is one of the millions of devices that aren't eligible for the free Windows 10 upgrade, the Microsoft Store can walk you through choosing another notebook, tablet or desktop that already has the operating system running or is eligible for the free upgrade.
Staples & Best Buy
In a post on the Windows Insiders Blog Microsoft confirmed that it's working with retail stores around the globe to get Windows 10 onto as many PCs as possible. New PCs purchased from stores will get Windows 10 upgrades. If you have a PC you'd like to install Windows 10 on already, stores can help you with that too. Best Buy, Wal-Mart and Staples will all offer upgrades for users who bring their Windows 7 or Windows 8.1 PCs in to be serviced.
Take your PC into these stores and they'll get the update going on your PC. Whether there's a separate purchase involved depends on the retailer.
Reportedly, Staples will install the Windows 10 upgrade for users free of charge beginning August 2nd. A report from Windows Central spills the details. Store associates will have flash drives on hand to upgrade PCs with. GottaBeMobile called Staples locations, but was unable to verify this is indeed happening.
If you have a limited Internet connection it is best that you take your device to a retailer to perform the upgrade. To be on the safe side, call your local Best Buy, Staples or other tech services provider ahead of time.
Windows Store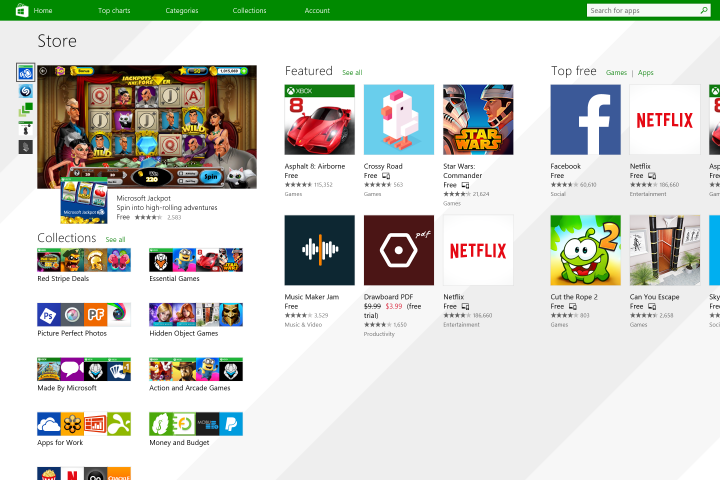 In case physical retail locations don't work out for you, you can install the free Windows 10 upgrade yourself. Windows 7 and Windows 8 PCs have a button on their taskbar in the right corner asking if users would like to reserve their upgrade ahead of launch.
On July 29th Microsoft will begin upgrading users. First, the update will hit members of the Windows Insider Program before expanding to others. Anyone who has reserved their copy could get their update within the first few days. Microsoft says it'll be rolling out Windows 10 upgrades to more and more users for weeks, maybe even months.
Read: How to Get the Free Windows 10 Upgrade
You don't have to reserve the Windows 10 upgrade if you don't want to. You can choose to keep the version of Windows that's installed on your PC if you absolutely want to. Within months the upgrade is expected to be available on-demand through the Windows Store.

This article may contain affiliate links. Click here for more details.