Where to Play Nintendo Wii U E3 Demos at Best Buy
This year at E3 Nintendo won't hold a typical big press conference, though it will do its best to bring E3 to the public via a partnership with Best Buy.
During E3 100 Best Buy stores across the U.S. and Canada will have Nintendo's E3 demos on display. Today the company announced the 89 stores in the U.S. that will have the games available to play, though Nintendo is making gamers wait until E3 to find out what games will be there.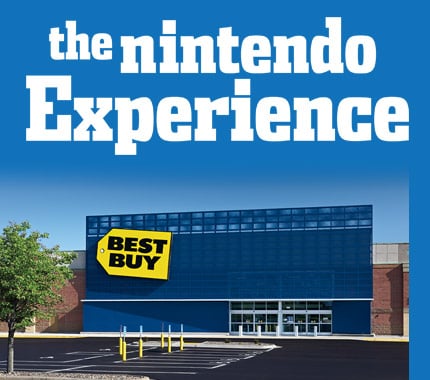 The Nintendo E3 games will only be in stores for a few hours on two days during the week of E3. On Wednesday June 12 gamers can play the Wii U game demos from 4 p.m. to 8 p.m. local time. The second session is on Saturday, June 15. On that day gamers can play the E3 demos from 1 p.m. to 5 p.m. local time.
Nintendo will announce the list of games on June 11, the same day as its pre-E3 Nintendo Direct. The game demos will likely include unannounced Wii U titles such as a new 3D Mario and a new Mario Kart, both of which Nintendo promised it will show off at E3.
The Best Buy stores that hold the demos will also have some Luigi-themed items to give away to go along with Nintendo's "Year of Luigi" promotion as well as "hot offers on Wii U."
Here's the full list of U.S. Best Buy locations that will house Nintendo E3 Wii U game demos:
Alabama
Arkansas
Fort Smith
North Little Rock
Arizona
California
Culver City
Elk Grove
Emeryville
San Jose
Tracy
Visalia
Colorado
Connecticut
Delaware
Florida
Brandon
Fort Myers
Gainesville
Kissimmee
Miami
Pensacola
Georgia
Augusta
Duluth
Savannah
Smyrna
Iowa
Cedar Rapids
West Des Moines
Illinois
Indiana
Kansas
Kentucky
Florence
Lexington
Louisville
Louisiana
Massachusetts
Cambridge
Dedham
Worcester
Maryland
Frederick
Glen Burnie
Wheaton
Michigan
Ann Arbor
Flint
Grand Rapids
Rochester Hills
Minnesota
Missouri
North Carolina
Cary
Fayetteville
Pineville
Winston-Salem
New Jersey
Iselin
West Paterson
Woodbury
New York
Albany
Amherst
Long Island City
Syracuse
Valley Stream
West Nyack
Ohio
Fairborn
North Olmsted
Reynoldsburg
Toledo
Oklahoma
Oregon
Pennsylvania
Erie
King of Prussia
Pittsburgh
Reading
Whitehall
South Carolina
Greenville
North Charleston
Tennessee
Brentwood
Knoxville
Memphis
Texas
Arlington
Austin
Houston
McAllen
The Woodlands
Tyler
Utah
Virginia
Charlottesville
Glen Allen
Virginia Beach
Vermont
Washington
Wisconsin

As an Amazon Associate I earn from qualifying purchases.