White Galaxy Nexus Images Suface
Yesterday, we caught wind of a photo and a couple of release dates for the white variant of the Samsung Galaxy Nexus. Thing is, yesterday's image was just a fan rendering. Today though, we have a couple of very real and very good images of the white Galaxy Nexus that will be headed to UK retailers starting February 2nd. The photos come from UK retailer Clove who will be carrying the device along with another retailer, MobileFun.
The photos offer up two more glimpses of a device that we think will be attractive to at least a couple of people out there showing off both the white backing and a nice little shot of how it looks from the side.
Looking pretty good right?
We think so.
Remember, this is the GSM version of the device that will be coming in white and not the 4G LTE model, the same model that has made its home on Verizon here in the United States.
Speaking of that, there is currently no word on whether or not Verizon will be releasing a white model at any point in the future.
MobileFun will start carrying the white Galaxy Nexus on February 2nd and will be asking for £519.95 for a 16GB model. Clove will be getting their model in a few days later and will be asking for £498.00, just a tad cheaper, when the phone finally starts shipping out on February 6th.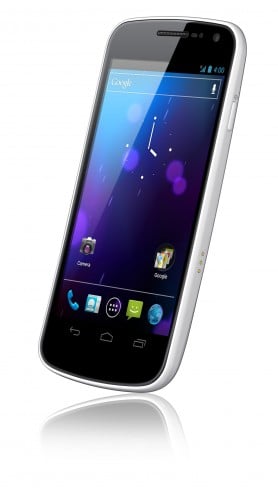 Maybe we'll see the white Galaxy Nexus in action at CES. After all, Sprint is all but confirmed to be carrying it at some point this year and maybe it will have a white variant available. It is, after all, launching a white version of the Epic 4G Touch in just a few days.

This article may contain affiliate links. Click here for more details.