White Nexus 7 Official in 32GB WiFi-Only Flavor
In typical Google fashion, the company surprised us today with a few new goodies, including a new white Nexus 7 that looks very similar to the white Nexus 5 that released earlier this fall. The white version sports a paper white rear shell with the Nexus logo sporting a slightly-darker shade of white. The rest of the device is black, including the front bezel and the rear camera ring.
The white Nexus 7 is only available in a 32GB WiFi-only version priced at $269. There's no word on whether or not the white model will expand into a 16GB flavor and LTE models, but that's something we'll have to wait and see what happens; it's possible that Google could keep the white model exclusive to certain versions, but that's not the case with the Nexus 5.
Furthermore, when you buy your new white Nexus 7 (or any new Nexus 7), you can throw in a Chromecast with your order and get a $35 Google Play credit along with free shipping. This essentially means that you'll get the Chromecast for free, and you can spend that extra cash you saved on apps, movies, TV shows, books, etc. in the Google Play store.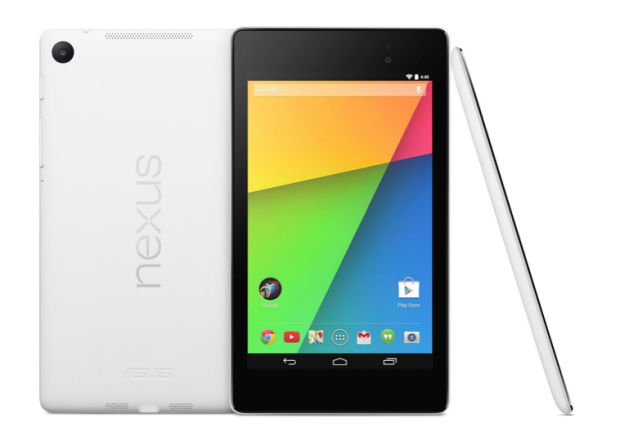 Besides the new color option, the white Nexus 7 is identical to the black version that has been on sale for a while already, and this also marks the first time that a Nexus tablet has become available in white; both the Nexus 7 and Nexus 10 have only been available in black.
Aside from the launch of the white Nexus 7, Google also announced a couple of new Google Play Edition devices that the company is adding to its store, including the powerful and underrated LG G Pad 8.3 tablet and the Sony Xperia Z Ultra smartphone, both of which will now come with pure Android experiences with Android 4.4 KitKat.

This article may contain affiliate links. Click here for more details.