White Nexus S Headed to AT&T
While Samsung may have pulled the Nexus S for AT&T webpage down, it doesn't mean that photographic evidence doesn't exist and that's exactly what we have here proving that indeed, the Nexus S in its white flavor will be heading to Ma Bell at some point in the (near) future.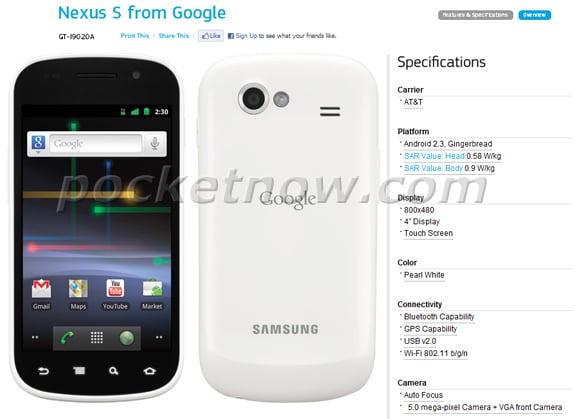 Right now, it's unclear if the device will be sold through AT&T or if it, like the HTC Merge for Verizon, will only be sold through third party retailers. The proof lies in the fact that the phone has a GT-I9020A model number instead of SGH-Ixx7. Samsung phones sold directly through a carrier generally have the latter sequence.
Unfortunately, the webpage reveals little about the important stuff, mainly, the release date and the pricing. We had seen the AT&T Nexus S appear back in April so the fact that it appeared today doesn't necessarily mean it's coming to shelves soon.
When and if it does though, it'll probably be priced around the same $99 that Best Buy is currently asking for the unsubsidized version of the Nexus S.
A white Nexus S from AT&T is tempting to be sure (who doesn't love Gingerbread) but with a possible launch of the Samsung Galaxy S II just around the corner, I have a feeling many people will be taking a pass on it.
(Via Pocketnow)

As an Amazon Associate I earn from qualifying purchases.