White Version of Samsung Nexus S with AT&T Support Shows Up at Online Retailer
Online retailer Negri Electronics is now listing a white unlocked edition of the Samsung-made Google Nexus S Android 2.3 Gingerbread smartphone with AT&T compatibility. The phone is listed as the Nexus S i9020T model and could be ordered in either black or white.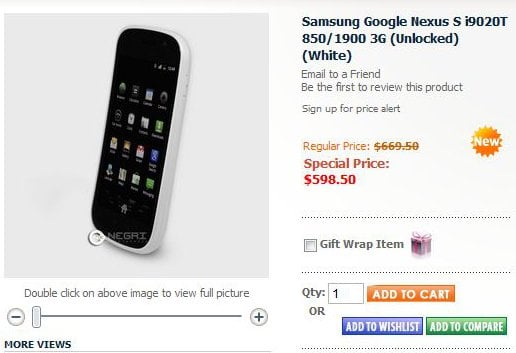 The Nexus S is available currently in the U.S. through T-Mobile USA and the phone has been announced by Sprint as well as the Nexus S 4G for Sprint's WiMax network. In the past, the Nexus One, made by HTC for Google, was available for both T-Mobile USA and for AT&T so a Nexus One successor on AT&T may not be out of the question.
The big deal about the Nexus S is that it's an Android smartphone that comes directly from Google, meaning that users will get a more pure Android experience devoid of any carrier- or manufacturer-made customizations on top of the most current edition of Android. This will also help the phone receive updates more quickly than other handsets where the customizations will have to be tested on top of the new version of Android. Also, Google can push updates out to its Nexus-branded handsets quickly and Nexus users are typically treated to Android updates ahead of other Android users.
Via: AndroidCentral