Why Case-Less iPhone Users Should Opt for the iPhone 5C Over iPhone 5S
Despite its use of plastics, which is often considered a less premium material than aluminum or metal in design, the iPhone 5C shows that it could survive scratches and more harsh conditions better than the flagship iPhone 5S.
Given what we think we know about both phones, the iPhone 5C will utilize a unibody polycarbonate rear shell in bright colors while the iPhone 5S will maintain the elegant, but scratch-proned, design of the iPhone 5 with a unibody aluminum casing. A new torture test shows that the plastic casing on the iPhone 5C could handle scratches well, a design win for consumers who prefer the feel of a naked iPhone without having to use a case to protect the phone from normal wear and tear.
The video shows the iPhone 5C placed in a plastic Ziploc bag along with keys, loose change (coins), and a wallet and jumbled around. This is typical of how many users will carry their smartphones around day-to-day with or without a case, either in a pocket along with coins and keys, or shoved into a bag or purse.
As it stands, even with a scratch torture test using the ridges of keys, it looks like the plastic shell of the iPhone 5C holds up well. The video was posted on Apple Daily.
This is unsurprising and could be a winning argument for users to choose the iPhone 5C over the iPhone 5S despite the latter rumored to be coming with premium features like a fingerprint scanner, improved camera design, and potentially more local storage on the device. In the past, just removing the iPhone 5 from its box upon purchasing from Apple, some consumers had complained that the phone had shipped with scratches in its shell while others noted that the chamfered edges got dinged too easily.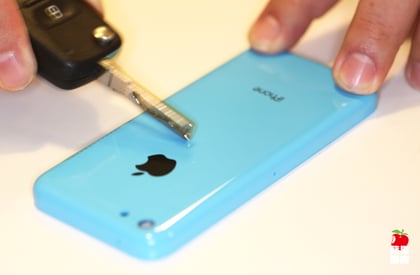 Nokia, which had moved away from a metal casing on its Symbian N8 smartphone design to polycarbonate unibody construction since the Meego N9 and the Nokia Lumia 800 has stated that plastic was a better choice as it was more resilient to scratches. Additionally, Nokia treats color on its plastic shells differently than most other manufacturers. Rather than a thin coat of paint on top of a white plastic case where scratches would reveal the underlying plastic color, Nokia actually mixes the paint into the plastic so there is color everywhere and scratches won't show up.
News of the scratch test would be welcomed to those who oppose using a case on the iPhone. Some users prefer not to use the case as it adds what may be deemed as un-necessary thickness and weight to the smartphone while others would rather not interfere with or ruin Apple's carefully crafted design that is inspired by Jonny Ive.
READ: 5 Ways to Protect the Back of the Iphone 5 (and iPhone 5S)
Another option for case-less users to add some degree of protection to their smartphone is to use apply a clear plastic skin, like the Invisible Shield made by Zagg.