Why I Am Passing on the Motorola Droid RAZR
Our own K.T. Bradford recently gave the Motorola Droid RAZR our Editor's Choice Award. If you haven't read her review, you can do so here. So, you would have thought, given the glowing review, that the phone would have at least tempted me during my struggle to find my next smartphone. I won't lie, it definitely has. For those that are new here, I have been a big fan of Motorola devices.
I loved the original Motorola Droid and I loved the Droid X even more so I have definitely been waiting to see what kinds of 4G LTE smartphones Moto had up its sleeve. The Motorola Droid Bionic, Motorola's first stab at 4G LTE, just didn't cut it for me. No question, it's a great phone, but it's nothing special and that's what I want from my next smartphone.
A month after the Droid Bionic's release, Motorola announced the Droid RAZR, a combination of two of its most famous brands. I really liked what I saw, at least from a hardware standpoint.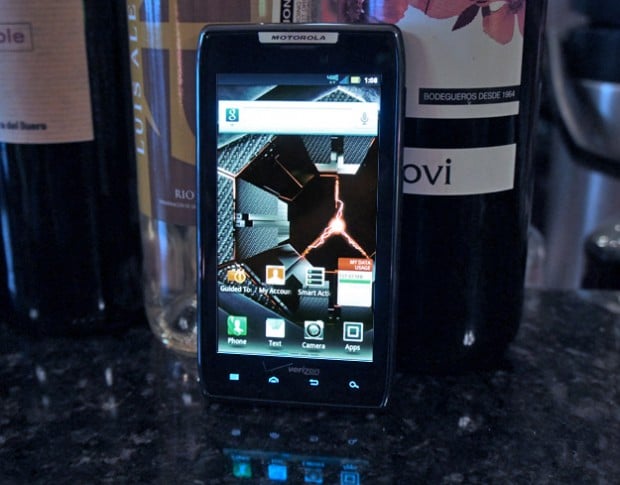 The Droid RAZR is as thin as a smartphone can get, checking in with a slender 7.1mm design. It also packs a much improved version of MotoBlur. And it has all of the bells and whistles – dual-core processor, large screen – that are the current standard for flagship smartphones.
However, all that being said, I am going to be taking a pass on the Motorola Droid RAZR, just like I am with the HTC Rezound and the iPhone 4S. If you're curious as to why, read on.
I Can't Trust Motorola With Software
Like I said, I absolutely love what Motorola does on a hardware level and the Droid RAZR is no different. It's sleek, thin, essentially, everything I want from my every day smartphone. The problem is, the Droid RAZR, like the HTC Rezound, is coming with Android 2.3.5 Gingerbread and not Android 4.0 Ice Cream Sandwich.
Motorola has promised to upgrade the Droid RAZR in the early part of 2012. And maybe that's true. But given Motorola's track record (see: Droid X, Droid 2, etc, etc, etc.) I just can't bring myself to trust it to deliver.
Looking into my crystal ball, I can see myself with a Droid RAZR in March, still with Gingerbread, getting laughed at by a bunch of Samsung Galaxy Nexus owners who not only have Android 4.0, but maybe even Android 4.1.
I can't subject myself to that. The waiting.
And let's say Motorola gets the update out, the last day of March or whatever. Who's to say that they won't pull it immediately afterwards like they did with the other updates? I realize that the Droid RAZR is much newer than the Droid X and Droid Incredible were when they got Android 2.3 but that doesn't mean that it's in the clear.
Just take a look at the Droid Bionic's situation.
Owners are sitting around dealing with a host of bugs, you can see a list of them right here, while Motorola and Verizon get their act together. The phone was released in September, it's now November.
Or take a look at the issues HTC had with getting Android 2.3 to the ThunderBolt, another 4G LTE device.
Between MotoBlur and 4G LTE, I just see a road littered with roadblocks that I don't want to deal with. And that is enough to lead me astray, no matter how good the hardware of a device might be.
The Motorola Droid Bionic
Software is the biggest thing factoring into my decision to pass on the Droid RAZR but I do have a few other more picky reasons to throw out as well.
I despised the way that Motorola and Verizon handled the Droid Bionic launch. This was one of the most exciting phones of the year, and they dropped the ball. They dropped the ball marketing wise, they dropped the ball when they delayed it for seven months, they dropped the ball with the lack of a software update to fix the bugs, and they dropped the ball with the price.
It was infuriating to witness.
Then, it came to light that Moto and Verizon didn't really care about the Droid Bionic as it was just a contractual obligation that they needed to fill. The real phone that they were focused on was the Droid RAZR.
Really?
So how am I supposed to trust that there isn't another phone just over the horizon that is going to trump the Droid RAZR? I know for a fact that there is only one Nexus device released every year so I know there won't be another Nexus out that trumps the Galaxy Nexus.
I don't have the same clarity with the Droid RAZR. Motorola is definitely working on a quad-core phone and as soon as it's released, will my Droid RAZR be kicked to the curb as fast as the Droid Bionic was?
I wouldn't be surprised.
—
If I was buying purely for hardware, I would definitely have to consider the Motorola Droid RAZR. It's sleek, it will handle everything I throw at it, and it has decent battery life for a 4G LTE smartphone.
Problem is, I'm not.
I am thinking about the whole experience. I am thinking about the next two years, the future.
And unfortunately, that future isn't as bright as I want it to be.

As an Amazon Associate I earn from qualifying purchases.