Why It Made Sense for Google to Not Announce Android 4.3 at I/O
Ahead of Google I/O, there were many rumors that Google would utilize its developer conference to set the stage to introduce the next version of the Android 4.3 operating system. Originally believed to be Android 5.0 Key Lime Pie, it was later believed closer to the conference that the OS update would be Android 4.3, an extension of the current Jelly Bean OS for Android, rather than a dramatically upgrade to 5.0. However, noticeably absent from Google's keynote yesterday was any news or announcement of Android 4.3, and it makes sense for Google to not announce Android 4.3 for a variety of different reasons.
1. New Flagship Phones Would be Dated
If Google had utilized the I/O 2013 event to launch a new version of the Android OS, recently launched flagship devices from important partners would quickly become dated. Not only will it take Google some time to release the new version of Android to the Android Open Source Project, but manufacturers like HTC, Samsung, and LG–all of which recently launched flagships like the One, Galaxy S4, and Optimus G Pro–would have to then test Android and build their own experiences on top of the new software. Android 4.3 would need to be tweaked to work with Sense and TouchWiz, and then it would take time for carriers to test the new software, approve it for their networks, and then deploy it over-the-air to consumers. It could take months of waiting, and in the interim, hot devices like the Galaxy S4 would appear dated from a consumer perspective.
Prior to I/O, we heard one possible reason why Google went with Android 4.3 instead of Android 5.0 was to appease manufacturers who didn't want their devices to look too dated with a radically new version of Android. It looks like Google took the suggestions of manufacturers to heart and didn't announce any new version of Android all together.
2. Updating Apps Is a Lot Quicker Than Updating an OS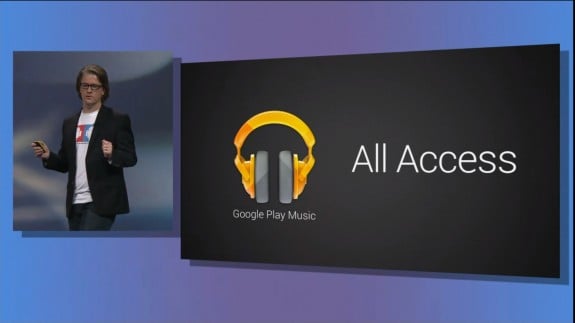 Instead of Android 4.3, Google rolled out some major updates to major apps and services. Google Play Music, Google+, Google Maps, Google Play Books, and Google Play Games are all getting new iterations on Android. Many of those app updates were instantly available after the keynote and users could download and update those apps right away without Google and OEMs having to seek carrier approval. Deploying updates to standalone apps is a much quicker process than bundling those updates to the OS, and this was a smart move as it democratized the new experiences to even older phones running older OSes. You now no longer need to be on the latest operating system to enjoy the OS, rather you can just update the app on an older, but fairly recent iteration of the OS. It's a wise move.
3. Major OS Upgrade Really Requires New Hardware
For a major OS upgrade to be enticing, Google would need to release new hardware and there was no new Nexus smartphone nor tablet announced at I/O this year. Sure, there was a new Samsung Galaxy S4 Google Edition that will ship with stock Android, but that's just a rehash. However, Google may have given some hints as to why it's not ready to announce new hardware at I/O when it demonstrated the new search app on Chrome.
With search on Chrome, Google search is always listening. Users can initiate a search hands-free by saying "OK, Google," and then the search will activate. We've heard of this capability before being a standout feature of Qualcomm's Snapdragon 800 processor, and given that Snapdragon 800 isn't ready at the time of I/O, Google may be waiting for Snapdragon 800 before announcing this always-on search capability with the next version of Android.
4. If It Isn't Broken, Don't Fix It
Google is already leading many of its smartphone rivals in terms of features and the company has time to wait before announcing any major upgrades. Apple is on deck next in June and Microsoft will likely be announcing some upgrades to Windows Phone later this year. Google can relax its pace a little, see what its competitors are doing, and then make big announcements to respond. This is a good thing for a hardware perspective as it means that there is a longer life span for hardware and things don't get outdated too quickly.

As an Amazon Associate I earn from qualifying purchases.