Why Microsoft Has More to Fear From Samsung Than Google
Much has been said about the public battle between Samsung and Apple and the private worries of Google that its biggest partner in the Android space may shun it in the future, but Samsung may pose a bigger threat to Microsoft than the industry lets on. Many of the changes that Samsung is implementing on Android through its premium software suite may seem innocent and innovative, but in this post-PC era, Samsung is gunning for Microsoft and until Microsoft is able to deliver a sub-$500 Windows tablet that is capable on performance and simplicity, Samsung's Galaxy Note lineup may give Microsoft a run for its money.
Galaxy Tab
Samsung had largely introduced its Galaxy Tab range as the Android answer to Apple's iPad tablet. Originally debuted as a 7-inch slate, the company touted the portable size, noting that it's a go-everywhere tablet that can fit in a man's coat pocket or a woman's purse. Samsung had led the Android tablet charge and its partner Google wasn't all that pleased, releasing a statement that the Android OS at that time wasn't optimized for tablets yet. Google has since released Android 3.0 Honeycomb, the first iteration of the OS that was built for tablet and the company has released its own Nexus 7 slate and has partnered with Samsung on the ultra high resolution Nexus 10 tablet.
Galaxy Note Phablet
The Galaxy Note phablet, which was introduced in the U.S. for carriers AT&T Mobility and T-Mobile USA, was more of an experiment for Sasmung and became the first device to truly ignite the phablet craze. While Dell had released a similar sized Streak 5 tablet in the past, the Note captured the attention of the world on what a productive, creative experience on Android could be. What's interesting really is that the Note, while in development at the same time as the HTC Flyer and the HTC EVO View 4G tablets, was released largely as an answer to HTC's pen-equipped offerings.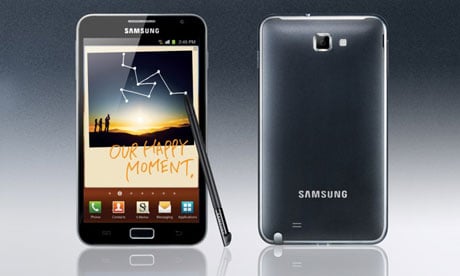 The 5-inch phone-tablet hybrid screen size took off and users showed a keen interest in Samsung's S-Pen, which was more developed, better integrated, and cleverly designed than the HTC competitor called the Magic Pen. With its own stylus silo on the device, the public embraced the S-Pen as a do-more and get more done tool.
Galaxy Note Tablet
And Samsung extended the Galaxy Note experience with a new tablet range called the Galaxy Note 10.1, which has a design and experience that largely mirrored the then flagship Galaxy Tab 2 10.1 tablet. It is with the introduction of the Galaxy Note 10.1 that we're seeing Samsung grow into its own as a software provider and the device, in my view, is the first device that is released with the consumer-centric Android OS that can take on Microsoft's more powerful Tablet PC ecosystem.
The original Tablet PC, which evolved into what we see today as Windows 8 tablets, was an idea championed by Microsoft's Bill Gates as the ultimate mobile computer where you can draw, write, and capture thoughts and ideas seamlessly, especially when paired with the excellent OneNote software application. It never really took off beyond niche audiences due to expensive processors, poor battery life, and a clunky design. Windows 8's touch-centric design extends the Tablet PC, but cloaks a lot of the cool pen-enabled handwriting features that early users clamored for, especially students, business professionals, and medical practitioners who needed to jot and scribble.
And minus the dedicated programs that these professionals may need, the Galaxy Note 10.1 does about 70 to 80 percent of what the Tablet PC can do, including the ability to capture handwriting, allow creative artists to draw and doodle with a pressure-sensitive S-Pen, transcribe handwritten text, and seamlessly create notes and capture ideas. Samsung's S-Note is admittedly more limited than OneNote for the professional and more advanced users, but it can get the job done and the Galaxy Note 10.1 costs just $500, rather than the $1500 -$2000 retail of some of the early Tablet PC machines, and is roughly half of the cost of Microsoft's Surface Pro tablet with the Surface Pen.
As an Android-maker, Samsung has shown that it can radically transform the lay-back content consumption usage of Android into a lean-forward content production tool.
Galaxy Note 8.0
Samsung has extended its content production tools to a smaller form factor with the Galaxy Note 8.0. It's brought the same S-Pen apps, added even more S-Pen capabilities (you can now touch the capacitive buttons with the S-Pen to activate them so you really don't need to set down the S-Pen to navigate around the Android OS), and carried over the same multi-tasking interface that was introduced on the Note 10.1 and the Note II. With Multi-View Windows, Samsung is really targeting Microsoft with its windows-based UI.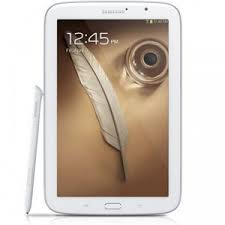 On the Note 10.1, Samsung allowed users to experience multi-windows multitasking in two ways. The first way is similar to how users use Windows today and in the past, with cascading, resizable windows that can be moved and positioned anywhere on the display. The second method, which is what's brought over the Note 8.0 due to the more limited screen real estate, allows users to snap windows side-by-side, similar to the feature that was introduced with Windows 7. This allows users to focus on two different tasks and perform them simultaneously.
Right now, the apps that are compatible with the Multi-View windows are more limited to native Samsung apps as well as a few Google apps, but it shows that Android can multitask and simultask in a way that no other popular mobile operating system can allow, save for Windows for the desktop. Samsung has enabled this on the phone through the Galaxy Note II, the mid-sized Galaxy Note 8.0, and the full-sized Note 10.1.
Promotions
Where Microsoft should be concerned is through Samsung's promotion and marketing. For a company that outspends all of its competitors in marketing dollars, Samsung is heavily promoting its Android range, including the Note phablet and the Note tablet. Samsung also creates a similar device, called the ATIV Smart PC and Smart PC Pro. The more budget-friendly ATIV Smart PC, which runs Windows and has a similar S-Pen, starts at $650, though it's been discounted to $550, and offers a comparable experience with the full Windows OS. It's just as capable, and for lighter Windows tasks–not Photoshop or heavy video editing or high intensity gaming–it's just as svelte of an experience to consumer tablets like the Note 10.1. However, Samsung hasn't really invested in marketing the ATIV Smart PC and few consumers look for the range when the Note 10.1 can achieve many of their needs in a more cost effective price package.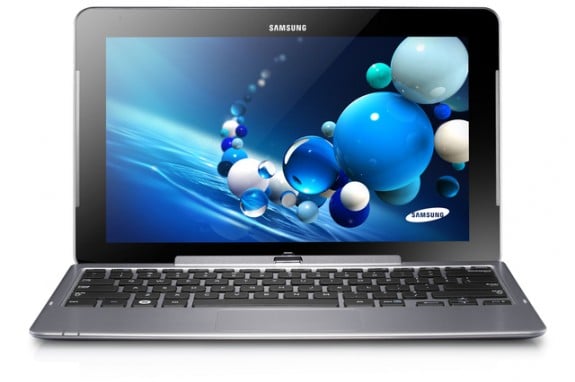 Additionally, whereas TouchWiz feels well integrated into the underlying Android OS experience on the Galaxy Note 8 and Galaxy Note 10.1, the new Metro UI and the Classic Desktop experiences of Windows 8 are more jarringly disparate experiences. Though Windows 8 isn't hard to get a hang of, and is pretty easy to use once you mastered some basic gestures, switching from the new consumer-based and glitzy Metro UI desktop to the Classic Desktop, the latter is where you run most traditional Windows 7-designed or earlier programs, is akin to being time warped through the Twilight Zone as they are completely different experiences mashed together in the same hardware.
Still, there is a gap in Microsoft's lineup as Windows 8 doesn't allow any device to be sized with a display under 10 inches. Even the compact Microsoft-branded Surface Pro comes with a 10.6-inch device and its biggest criticisms include short battery life, cramped screen (especially when viewed in Classic Desktop), high price tag, and no built-in 3G or 4G modem.
And sure, while you can get your Photoshop edits done with the Intel Core i5 processor on the Surface Pro, one can argue that you can get a bulk of the Photoshop tools you need through some third-party Android photo editing apps on the Note 10.1 and can still be productive, unless you're a hardcore graphics artist who needs the extra power. The point is, for consumers, apps are quickly replacing many of the old staple programs for the desktop, and in the post-PC era, power and performance can be experienced on smaller, less expensive tablets.
A 7-Inch Windows 8 Future
Until Microsoft is capable of releasing a 7- or 8-inch Windows tablet that will allow users to truly have a touch-optimized experience–through both the Samsung is leading the charge in the post-PC era. The company is proving that with the right mix of software and hardware, it can create powerful experiences on more affordable tablets that will allow users to create, share, and multitask. Ask most consumers about automatically converting handwriting to text in the Tablet PC era and most will be dumbfounded by such a question, but the $500 Galaxy Note 10.1 and $400 Galaxy Note 8 is bringing some of these 'high-end' features to the masses. The challenge for Microsoft moving forward is the ability to bring all this performance and power down to a more pocketable price and in a pocketable form factor.

As an Amazon Associate I earn from qualifying purchases.