Why Switch to T-Mobile? Jump, Uncarrier & More
When one looks at the aggressive moves that T-Mobile has made in the wireless carrier space, it's hard to remember just how stagnant the industry had become. To hear that people are seriously thinking about switching to T-Mobile is even harder to grasp.
This small company, with its small wireless network and basic stable of smartphones that even didn't include Apple's iPhone, has blossomed in recent years. Thanks to its Uncarrier initiatives, folks are taking T-Mobile seriously as an alternative to AT&T, Verizon & Sprint. To be frank, users who aren't considering T-Mobile as their new wireless carrier, are definitely running out of reasons not to.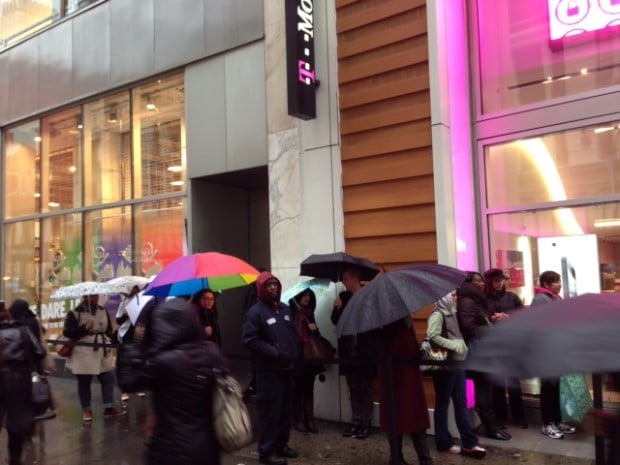 That's because over the last year T-Mobile has proven repeatedly that it not only understands what's wrong with the wireless industry, it understands how to communicate what's wrong with users effectively. Communication may sound simple, but it's a complicated thing to pull off in a wireless market that's as big as the United States. Being able to communicate has helped T-Mobile discover user's pain points and offer them solutions that work and lighten their wallet less than rival companies. Switching to T-Mobile is a no-brainer and here's why.
Better Smartphones When You Want Them
Like other wireless industry insiders, T-Mobile appears to have been clearly caught off guard by the iPhone and its features. Other carriers responded by introducing branded smartphones of their own, but T-Mobile mobile didn't exactly respond as quickly as it could have. It was only last year that the company snagged its own version of Apple's iPhone 5s and iPhone 5c. Since then the company's smartphone line-up has filled out nicely. There's the aforementioned iPhones, plus devices that users can't get anywhere else. For example the Sony Xperia Z1S is completely unique to T-Mobile's network. T-Mobile also has fan favorites backing these exclusives up. There's the Samsung Galaxy S5 and the HTC One M8 too.
The big deal is that T-Mobile not only offers a competitive collection of devices, it's letting users purchase them on their terms. There aren't any contracts on T-Mobile for those who don't want them. Using T-Mobile is a simple as bringing in a compatible smartphone and adding in a SIM card. Users who don't have smartphones that are compatible, or want new ones, can sign up for an Equipment Installation Plan to pay the full cost of a smartphone over time. T-Mobile will tack on an extra $20 a month to the bill each month, or users can choose to pay off the balance remaining on the phone purchase when they're ready.
Where T-Mobile's initiatives make more sense than their rivals is that small detail. Other carriers will allow users to purchase a smartphone and pay for it over time, but they'll add that cost to the user's bills permanently. That means, even when the smartphone is paid off, users are still paying them extra.
Users Can Test Drive T-Mobile's Network
Depending on where users live, the stories of how bad T-Mobile's wireless network performs have become the stuff of legend. Before T-Mobile embarked on its 4G LTE data roll out, the network's coverage was slim to none in most rural areas. T-Mobile says it's gotten better at this, but users don't have to take their word for it. This past week T-Mobile announced that it'd partnered with Apple to let users test drive an iPhone 5s and its 4G LTE network for one week for free.
Obviously, if anything happens to the device users are on the hook for that, but the idea is to let users get from behind their keyboard or mouse and give the company's upgraded capacity and coverage a spin on their own terms. Users planning a Test Drive, as T-Mobile calls it, are charged the entire $699.99 cost of the iPhone 5s if T-Mobile doesn't receive it back. Damaged devices will cost users $100.
Other companies have restocking fees and so forth. T-Mobile is offering to let users try their network at no charge. It's practically unheard of.
T-Mobile is Heavy Data Friendly
Different Uncarrier initiatives have targeted different issues that keep users from enjoying life as a mobile user. None of them have ever targeted such a core issue like data overages. It's a problem that we all run into at some time or another, whether we're streaming Netflix or pairing our tablet with our smartphone to browse the web at a place without a free connection.
T-Mobile's latest move in this area is to stop dinging users for streaming music. Certain music services no longer count towards user's data plans at all, and T-Mobile is promising no overage or data cap limits for users streaming music.  This in itself is a huge win. Included on the list are top music streaming services like iHeartRadio and Pandora. T-Mobile is also partnering with Rhapsody to let its $30 data plan users stream as much music as they want, without commercials, at absolutely no charge.  Music streaming makes up a huge amount of user's plans.
This new music plan is already on top of the advantages T-Mobile users had over their counterparts on Verizon and AT&T. T-Mobile subscribers don't have hard data caps, instead when they've reached their limit of 4G LTE data, T-Mobile just slows them down. That's it.
International data and text messaging are also included with every plan. No other carrier is matching that.
T-Mobile Lets Users Upgrade Phones on Their Own Schedule
Finally , there's the T-Mobile Uncarrier initiative that started it all: T-Mobile JUMP. First it eliminated contracts. Then T-Mobile made a splash when it formally announced that it would be letting users upgrade their iPhone and other smartphones on their own schedule.
For JUMP, users pay T-Mobile an extra $10 a month. Included in the cost of JUMP are unlimited upgrades. Provided that a user turns in the used smartphone that they originally purchased through the JUMP program, users can upgrade phones on their own schedule. T-Mobile says that users have to be current on their bill and the device they're trading in to use their JUMP upgrade needs to be in decent working order, but that last bit is pretty easy since that $10 a month also includes device insurance.
T-Mobile JUMP costs users extra on top of their bills, but it's great for those who covet the latest and greatest smartphones and then immediately want the follow-up device. The best part about JUMP? Users get the initial downnpayment pricing that new buyers would get, turning a $699 purchase on some networks into a $100 payment and monthly payments to cover the rest until users are ready to move to the next hot smartphone.
T-Mobile is Cheaper
Every Uncarrier initiative wouldn't be relevant if T-Mobile wasn't also offering users service at more reasonable rates than other companies.
1GB of data plus unlimited talk, text and data at T-Mobile starts at just $50 for monthly service. Of course, users who need a compatible smartphone will need to use T-Mobile's Equipment Installation Plan to get a device, but once they're done paying for that device their monthly charges will drop to $50. If they decide to pay for their device in full the monthly price will always be $50. Families can add more lines to that and get more data at $60, $70 and $80 increments. Barebones plans start at $40 and include 500MB of 4G LTE data and unlimited talk and text.
By comparison AT&T offers users unlimited Talk and Text plus 2GB of data for $65. Having two smartphones on a family plan on AT&T costs users $130 a month, $140 a month for four different devices. T-Mobile family plans start at $80 for two lines and max out at 5 lines for $110 per month.  All of T-Mobile's family plan users in this scenario get unlimited talk, text and 1GB of 4G LTE data.
Only you know if a switch to T-Mobile is the right move for you. It's possible that you aren't in one of the new markets covered by the carrier's upgraded network or that you may not like the company's entire smartphone lineup. Switching smartphone carriers is a very personal decision.
That being said, T-Mobile has given users all the right tools here. Data is available on all of its plans, and it's actively taken steps to demystify the costs of buying and maintaining a smartphone. It's done its part and the company's offerings clearly show it.

As an Amazon Associate I earn from qualifying purchases.