Why You Should Disable Automatic App Updates
As a convenience, you might have automatic app updates enabled on your iPhone or Android device, but here's why should disable automatic app updates, even if that means less convenience on your end.
Depending on how many apps you have on your iPhone or Android smartphone, you could be getting a handful of app updates every day, and the ability to have your device automatically check and download app updates can be pretty convenient.
However, many users will argue that you should have app updates be a manual thing that you do yourself when you have some spare time, instead of your smartphone doing it for you.
Don't get me wrong, it's kind of nice to not have to worry about updating your apps all the time, and I know many users who benefit from having automatic app updates enabled, simply because they don't have the time (or don't take the time) to manually update their smartphone's apps.
However, there are some downsides to having automatic app updates enabled, so here's why you should disable them if you're currently relying on automatic app updates.
App Updates Can Have Issues
While app updates are supposed to improve the app, sometimes that's not always the case. App developers can make mistakes and sometimes miss a critical bug when they roll out an app update.
Read: 6 iPhone App Store Problems & Fixes
This was recently the problem with Downcast, a popular podcast app for iPhone. A previous app update broke the app to the point where it would crash every time users tried to open it. It wasn't like this for everyone, but it seemed that a lot of people were having this problem.
If you had automatic app updates enabled, there was the risk of being subjected to the bonked updated without having any control over it, whereas if you were to have to option of updating it yourself, you could choose not to update the app and wait for a new update to arrive.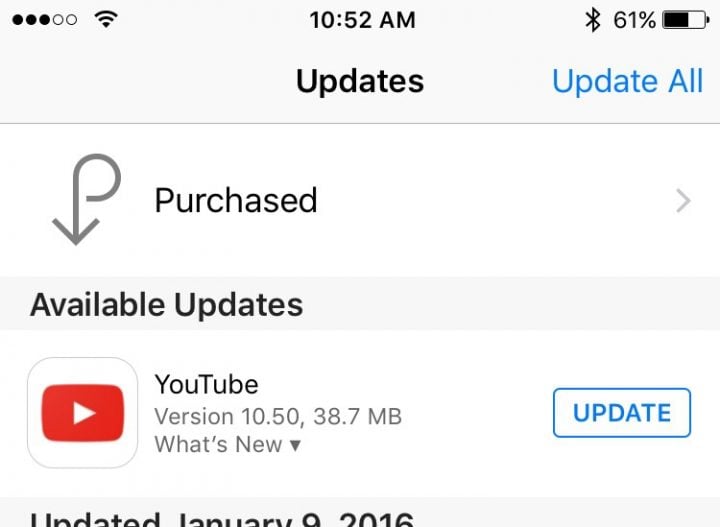 Of course, there's no way to know if an app update will bonk up your smartphone without going onto forums and searching around for any possible problems, so it may not entirely matter, but I always find it's a good idea to wait a few days to update any apps anyway, just in case my Facebook or Twitter feeds fill up with other users having issues with a specific app.
Look to See What's Changed
Another great reason to disable automatic app updates is to get a better idea of why an app update has arrived for a specific app.
More often than not, most app updates are nothing more than just basic bug fixes and performance improvements that really aren't that important to the basic user. However, some app updates are pretty big, and the changelogs included with app updates can tell you a lot about what you're downloading and what's being updated.
For instance, the YouTube iPhone and iPad app updated with an all-new look not too long ago, which many users didn't like at all. It came with a much simpler user interface,  but it was a lot harder to navigate around.
If you had automatic app updates disabled, you'd be able to choose whether or not to install the update, that way you could continue using the older YouTube app for as long as you wanted.
To disable automatic app updates on Android devices, open up the Play Store and tap on the Menu icon in the top-left corner next to Google Play.
Scroll down and tap on Settings and then select Auto-update apps. When the pop-up appears, select Do not auto-update apps.
On iPhone and iPad, go into Settings and tap on App and iTunes Store. From there, toggle off the switch next to Updates under the section called Automatic Downloads.

As an Amazon Associate I earn from qualifying purchases.