Why You Shouldn't Buy the Galaxy Note 3 Right Now
The Samsung Galaxy Note 3 is almost a year old but it's still a very solid option for those that want a big screen smartphone with a lot of horsepower. That said, right now is the absolute worst time to buy the Samsung Galaxy Note 3. Those interested in Samsung's current Galaxy Note would be wise to wait a few weeks and here's why.
Last September, Samsung took the stage ahead of IFA 2013 and announced the Galaxy Note 3, a high octane successor for the Galaxy Note 2 and a device that quickly joined the Samsung Galaxy S4 in the company's fight against the iPhone, against the HTC One and against the LG G2. At the time, we considered the Galaxy Note 3 Samsung's most powerful smartphone. And for good reason.
The Galaxy Note 3 emerged with some powerful specifications including a gorgeous 5.7-inch Full HD display, extremely fast and efficient processor, an upgraded camera, and a design that while not best-in-class, was certainly much better than the polycarbonate plastic that arrived with the Galaxy Note 2 the year before.
We're now a year removed from the Galaxy Note 3 release but the device remains a great choice for those that want an extremely powerful smartphone, complete with a stylus. It also helps that the device has dropped a bit from its $299.99 on-contract price tag in the United States. Unsurprisingly, we've heard from many people who are investigating the Samsung Galaxy Note 3 as their next smartphone.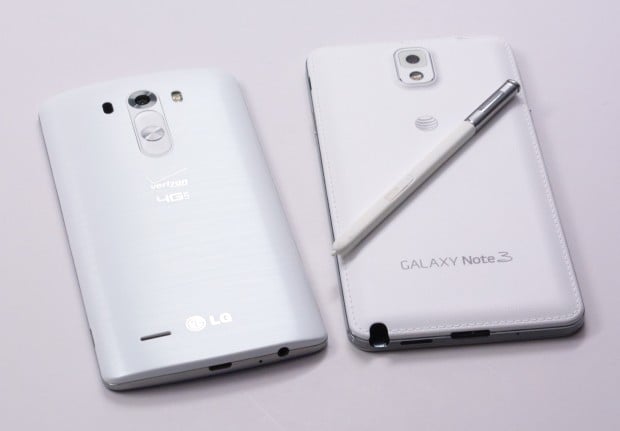 It's a device that we can still recommend given its specs, given its updated software, and given that it should get Android L and perhaps, one more Android update before it's all said and done. However, we can't recommend buying it right now or anytime in the next 60 days or so.
The next 40 to 60 days represent the absolute worst time to buy the Galaxy Note 3 or any other smartphone for that matter. That's because we're hitting the tail end of the yearly smartphone cycle. The devices that arrive in the next two months or so will likely represent the top smartphone options until the cycle begins anew in the beginning of 2015.
Samsung Galaxy Note 4
We've been using the Galaxy Note 3 for close to a year now. It's a good smartphone but it's one that we simply cannot recommend right now. And here's why. Maybe the best reason is that the Samsung Galaxy Note 4, the Galaxy Note 3's successor, is just over the horizon. We're talking mere weeks from now.
Last week, Samsung confirmed the Galaxy Note 4 release and tagged the device with a launch date of September 3rd. While Samsung still isn't talking about its announcements, this date is set in stone. The invite itself gives it away and Galaxy Note 4 rumors put the device on September 3rd. It's safe to assume that this is when Samsung will show off the Galaxy Note 3's successor.
What this means is that in just a few short weeks, we're going to see another Galaxy Note 4 option emerge. This only happens once a year. And if rumors are correct, the Galaxy Note 4 could be a pretty big step up from the Galaxy Note 3 and the Galaxy Note 2 as Samsung looks to compete against the LG G3 and the iPhone 6.
The Samsung Galaxy Note 4 is expected to deliver a number of changes including a better 5.7-inch QHD display, a more efficient Snapdragon 805 processor, an upgraded camera with optical image stabilization, a UV sensor, a fingerprint sensor for added security, and a design that could combine sleek looking plastic with a metal frame.
Samsung's Galaxy Note 4 is also expected to deliver the latest Android software, likely Android 4.4.3 KitKat or above, with some new TouchWiz features attached to it.
Remember, the Galaxy Note 3 might get some of these features but it won't get all of them. It's also important to note that the Galaxy Note 3 is now one year in. Samsung typically offers 24 months of Android updates before the device is kicked the side. In other words, the Galaxy Note 4 should have significant hardware and software advantages.
On September 3rd, you'll be able to tune in live and watch as Samsung delivers a brand new Galaxy Note 4. Not only will you get another smartphone option but you might find yourself looking at a new Galaxy Note that trumps the Galaxy Note 3 in every way. We think it's worth waiting a few weeks to find out.
iPhone 6
The Galaxy Note 4 isn't the only device slated to arrive in September. Apple's iPhone 6 launch is expected to take place on September 9th at an undisclosed locale. That date isn't confirmed but Recode's John Paczkowski is a solid source and it's looking like Apple will confirm that date at some point down the road.
This year's iPhone could match up very well with the Galaxy Note. It's thought to have two new screen sizes, 4.7-inches and 5.5-inches, both of which will provide more screen real estate for gaming, the web, getting work done, and television shows and movies. And it's that 5.5-inch model in particular should be of interest to prospective Galaxy Note 3 buyers.
In addition to the screen size changes, the iPhone 6 is also rumored to have a higher-resolution display, a slimmer and better protected design, a camera that's improved over the iPhone 5s', and an A8 processor that could deliver better performance and battery life. It might also offer more color options and NFC (Near-Field Communication) a feature that's currently on the Galaxy Note 3 and has been rumored several times for the iPhone.
So by holding off on the Galaxy Note 3, you'll not only run into a new Galaxy Note but you'll probably also be able to weigh the Galaxy Note 3 against a new large screen iPhone, something that simply hasn't been an option in years past.
Apple's iPhone is another device that only comes around once a year so it's certainly worth holding out if you can.
Galaxy Note 3 Deals
If the Galaxy Note 4 and iPhone 6 don't impress you, you can still buy the Galaxy Note 3. In fact, we'll argue that the Galaxy Note 3 is going to get even more attractive in the days and weeks ahead.
We've already seen AT&T drop the price of the Galaxy Note 3 and we expect other carriers and retailers will follow suit either in the build up to the Galaxy Note 4 release or after the Galaxy Note 4 release itself. Right now, the Galaxy Note 3 is available for a mere $100 or less at Amazon but we would not be surprised if that price dropped even further after the arrival of the iPhone 6 and Galaxy Note 4.
Same goes for other top smartphones. Devices like the iPhone 5s, LG G3, Samsung Galaxy S5 and HTC One M8 will likely see their prices drop in September as sweeten their offers after the arrival of the Galaxy Note 4 and iPhone 6.
Point is, the Galaxy Note 3 isn't going anywhere and there's a good chance that it, and its rivals, are going to get even cheaper once the Galaxy Note 4 makes its arrival next month.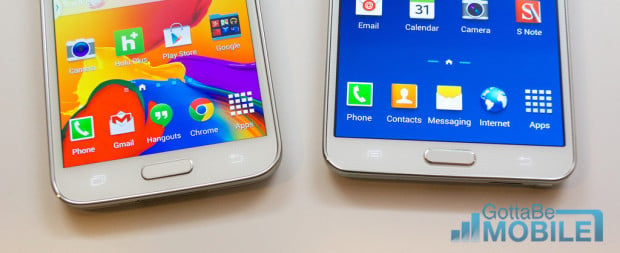 If you're not in any hurry to replace your current smartphone and you aren't one hundred percent sold on the Galaxy Note 3, we highly recommend waiting, at least until September. In September, you'll have two more options to weigh against the Galaxy Note 3 and you should also have access to cheaper devices including a cheaper Galaxy Note 3.
We understand that every situation is different. Phones break, money appears, whatever. If you simply can't wait, make sure that you don't pay a ton for Samsung's Galaxy Note 3. It's still a very solid smartphone but now that it's a year old, there's no reason why you should be shelling out for it on-contract or otherwise.