Why You Shouldn't Wait for the Samsung Galaxy S6
As we near the new year, Samsung Galaxy S6 rumors starting to surface at an increasing rate and they have consumer attention shifting toward the company's "Next Big Thing". With a Samsung Galaxy S6 release date approaching, prospective buyers are likely trying to decide whether or not to wait for the new Galaxy S to arrive. Here, we take a look at some reasons why you might not want to wait for Samsung's Galaxy S5 successor.
We continue to push further and further away from the Samsung Galaxy S5 release date which means that in all likelihood, we're inching closer and closer to the arrival of Samsung's next Galaxy S, a device that's supposedly dubbed "Project Zero" behind the scenes and one that will supposedly be marketed as the Samsung Galaxy S6.
In the weeks after October's Samsung Galaxy Note 4 release, we've started to hear some initial rumors about the Samsung Galaxy S6 specs, Samsung Galaxy S6 launch date and the Samsung Galaxy S6 release date. If it's real, and it likely is, the Samsung Galaxy S6 will be the sixth-generation Galaxy S and a replacement for the Galaxy S5 which launched back in April.
Samsung Galaxy S6 rumors are scarce but we've started to see credible information emerge as we close in on the end of the year. Thanks to these Galaxy S6 rumors, we know that there's a very good chance that Samsung will look to release a new flagship to compete against Apple's new iPhone 6 and iPhone 6 Plus and top Android competitors like the LG G3 and others.
It has us, and many others, extremely excited. The Galaxy S6 will be a high-end phone and perhaps, one of the more impressive devices of 2015. But it won't be for everyone and for many buyers, it won't be worth the wait. Here, we take a look at some reasons why for some of you, your smartphone search might come to end before the Samsung Galaxy S6 release date.
You Don't Want to Pay Top Dollar
If you aren't prepared to pay top dollar ($199.99 or more) for your next smartphone, then by all means, walk away from the Samsung Galaxy S6 right now. There's no doubt about it. The Samsung Galaxy S6 will be a flagship phone and flagship Samsung phones command flagship prices. In the past, that's meant $199.99 on-contract for the base model. Sprint's gotten into the habit of charging $50 more than that but we can't be sure that it will do the same next year.
It's also important to note that Samsung's Galaxy Note 4 really still hasn't budged from its $299.99 price point. With Samsung's mobile business struggling, we could see something similar with the Galaxy S6. Translation: Fewer Galaxy S6 deals and thus, a more expensive smartphone. At the very least, be prepared to shell out more than $200 for the rights to the phone on-contract, way more than that if you want it off-contract.
There Are Some Really Good Alternatives
The Samsung Galaxy S6 release date, at best, is several months away. Rumors put its release earlier than the Galaxy S5 release in April but that doesn't guarantee anything. Everything depends on production and testing and there's no telling what will happen behind the scenes between now and Samsung's target Galaxy S6 release date. If that sounds like a long time to wait, it is. And it's going to be especially difficult because of the quality of smartphones on the market right now.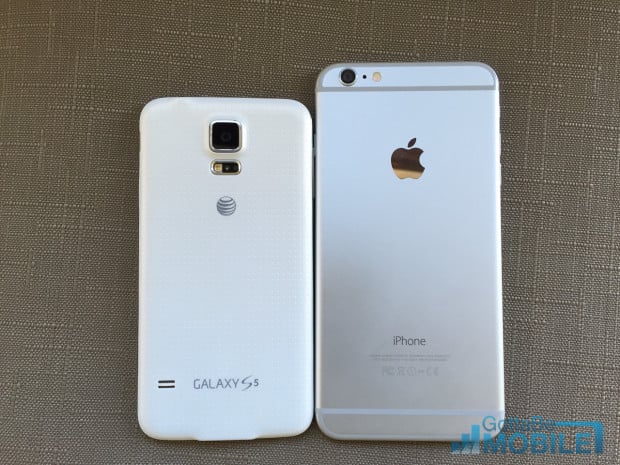 There are a lot, and we really mean a lot, of solid Galaxy S6 alternatives on shelves right now. Devices that could seriously give the Galaxy S6 a run for its money next year. The Galaxy Note 4 is one of those phones. Also included in the group are the Nexus 6, Galaxy S5 (it's really, really cheap), the new Moto X, the LG G3, the iPhone 6 and iPhone 6 Plus, and the Sony Xperia Z3. That list literally scrapes the surface.
Just because the Samsung Galaxy S6 will be advertised as the "Next Big Thing" doesn't mean that older devices are bad or won't last through the duration of a contract. In fact, it's quite the opposite. All of these devices feature hardware that's built to last. Just like the Galaxy S6. Only much, much cheaper. Four months is a long time, especially when you sit back and consider the quality of phones on the market right now.
Galaxy Note 4 & Galaxy S5 Will Get Galaxy S6 Features
Two of the more attractive alternatives to the Galaxy S6 (and the long wait) are the Galaxy Note 4 and Galaxy S5. We know of a number of people who are weighing one of these devices against waiting for the Galaxy S6. For good reason. If you're starting to lean toward one of these current Samsung flagships, know that they're going to benefit from the release of the Galaxy S6.
Samsung always brings new software features to older devices. Just look at the the Samsung Galaxy S5 Android 5.0 Lollipop update. It delivers some of the features that arrived on the Galaxy Note 4. We expect other devices like the Samsung Galaxy Note 3 and Samsung Galaxy S4 to get some love as well. Those Lollipop updates are set to arrive in early 2015.
So if it's software features you're afraid missing out on, don't sweat it. The Samsung Galaxy S6 will likely retain some unique features of its own, but it will certainly be sharing some of its features with older devices, something that makes Samsung's current lineup look that much better compared to the four months of waiting for the Galaxy S6 to arrive.
You Need a Smartphone Right Now
Do not torture yourself with a lengthy wait if you need a smartphone right now. If you need a smartphone at any point in the next few weeks or months, whether it's for monetary reasons, because of a broken device, or because of something else, you will not want to wait. There is a very good chance you'll find something on the market right now that suits your needs. And it's probably going to cost much less than $199.99. So you'll really need to be set on the Galaxy S6 and we doubt many of you are.
There is also going to be the inevitable uncertainty surrounding the Galaxy S6 release date, particularly in the United States, where carriers are often silent and unpredictable. At this point, there is no guarantee that the Galaxy S6 will hit the U.S. within the first four months of next year. And if Samsung is indeed using metal, we could see supply issues delay its release. We saw something similar happen with the Galaxy Note 4.
The Samsung Galaxy S6 is not a phone that is going to appear overnight, no matter how hard you cross their fingers. It's a phone that is several months away at least and when it finally does arrive, there is a chance that it won't live up to expectations.
You Expect Perfection
And that leads us into our fifth and final reason. Last year, the buildup to the Galaxy S5 launch made some people set lofty expectations for the Galaxy S5. The same thing happened with the Galaxy S4.
Some of those expectations were so lofty that when the Samsung Galaxy S5 finally arrived, it was a disappointment. (Remember the rumors about metal?) This will happen again, to some extent, with the Samsung Galaxy S6.
Inevitably, the rumor mill will build this phone up to be something otherworldly before everyone crashes down, back to reality, and realizes that the Galaxy S6 is great but doesn't have every single high-end hardware feature and software that's one hundred percent perfect. We still haven't seen a perfect smartphone and that trend will undoubtedly continue with the Galaxy S6. It will have its flaws.
So if you're looking for perfection, for the Galaxy S6 to suit your every need, you're going to be disappointed. It will be a good phone but we're willing to bet that it's not going to please everyone. With that in mind, we highly suggest taking a look at the phones that are on the market right now. None of them are perfect either, but they are readily available, cheap and should suit most of your needs just fine.

This article may contain affiliate links. Click here for more details.