Wi-Fi Samsung Galaxy Tab Coming April 10th For $350
Samsung has announced that the Wi-Fi only version of the Samsung Galaxy Tab will be headed to shelves and online stores starting April 10th and it will cost $349.99.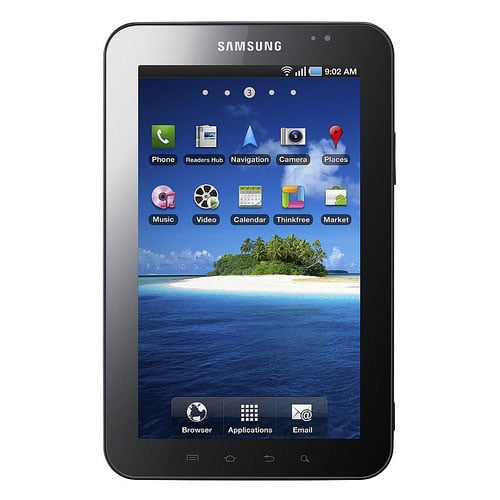 This news comes on the heels of price drops of the original 3G compatible version of the Samsung Galaxy Tab on both Sprint and Verizon with both announcing that the device is now available for a mere $200 on new two-year contracts.
The Wi-Fi only version of the device remains unchanged from the 3G version. It will still have Android 2.2 Froyo as the operating system, it will still employ a 7-inch display with 1024 x 600 resolution and it will still tout a 3MP rear camera and a secondary 1.3 MP rear camera for video chatting purposes.
Samsung unfortunately didn't announce which retailers it would be partnering with but you should expect the usual suspects like Best Buy to be involved.
Before you pull the trigger on a Wi-Fi Galaxy Tab keep in mind Samsung just announced the Samsung Galaxy Tab 10.1 and the Galaxy Tab 8.9 at CTIA, devices that will be out at some point in the months ahead.
Update: We've been informed that the press release had a slight error. Instead of 32GB's of internal space, the Wi-Fi Galaxy Tab comes with 16GB's of internal space. Everything else is correct.
—
Samsung Galaxy Tab™ Available for Purchase at Multiple Retail Stores and Online Outlets

Consumers receive chance to purchase WiFi-only version of Samsung's award-winning Android™ platform mobile tablet

DALLAS, April 6, 2011—Samsung Telecommunications America (Samsung Mobile), the No. 1 mobile phone provider in the U.S.1, announced today that several retail stores and Web sites will carry the WiFi-only Samsung Galaxy Tab™ by April 10, offering customers the opportunity to buy this powerful and compact mobile tablet for $349.99. Consumers can visit https://www.samsung.com/us/mobile/galaxy-tab for a complete list of retail outlets selling the WiFi Galaxy Tab.

The Galaxy Tab is powered by the Android™ 2.2 platform and has a 7-inch TFT display with a 1024 x 600 resolution. The super-light and sleek device weighs just 13 ounces, is 12 millimeters thin and easily fits in a pocket or purse. The Galaxy Tab includes 32 GB of internal storage and offers microSD expansion to allow for up to 32 GB of additional storage.

"We are excited to have the WiFi version of the Galaxy Tab join our growing portfolio of Galaxy-branded devices," said Dale Sohn, President of Samsung Mobile. "The 7-inch Galaxy Tab is the first truly mobile tablet on the market, allowing users to comfortably hold the device in one hand while typing or navigating the Web with the other."

Outstanding Entertainment Options

The Galaxy Tab supports Adobe® Flash® Player 10.1 to deliver an enhanced content experience and allow users to engage with thousands of sites with rich Adobe Flash Player compatible applications and content including games, animations, rich Internet applications (RIAs), data presentations and visualizations, ecommerce, video, music and more. Plus, the device is designed with a rear-facing 3 megapixel camera for taking pictures on-the-go, and a front-facing 1.3 megapixel camera and camcorder for video chat.

In addition, the Galaxy Tab includes access to Media Hub, Samsung's own content service, offering a vast lineup of critically acclaimed films and TV programs for rent or purchase. The biggest and best names in entertainment, including CBS, MTV Networks, NBC Universal, Paramount and Warner Bros. provide new release movies, next day TV episodes and full TV show seasons to the robust Media Hub library. Media Hub also promotes content sharing, including the ability to send purchased films and TV programming to as many as five devices that carry the Media Hub application.

Google Services & Social Hub

Services like Google Maps™ Navigation and Google Goggles are available on Google's Android platform. With useful location-based services like Google Maps™, consumers can search in Standard English instead of entering an exact address. A search-by-voice function is just as intuitive, meaning searches can also be completed easily on the go. Google Goggles™ is a powerful, visual search tool that uses the Samsung GALAXY Tab's camera to uncover information – an image of a landmark or artwork is automatically used to perform a search, delivering relevant content like a description or history. In addition, with a camera, users can enjoy various augmented reality services which are downloadable in the application market. Plus, Galaxy Tab users have full access to more than 150,000 applications available for download from the Android Market™.

The Galaxy Tab keep users organized and connected with Samsung's Social Hub application. Social Hub works with the user's Messaging and Contacts to initiate the sending and receiving of information, whether it is e-mail, instant messaging, social network updates or SMS messages. Additionally, calendar information from portal calendars, such as Google Calendar, and social networking services are displayed together in one calendar with two-way synchronization.

Samsung Galaxy Product Portfolio

The WiFi Galaxy Tab joins other popular products under the premium Samsung Galaxy brand, including the upcoming Galaxy Tab 10.1, Galaxy 8.9, Galaxy Player 5.0 and Galaxy Player 4.0 and the portfolio of Galaxy S smartphones.

As an Amazon Associate I earn from qualifying purchases.