WiFi Acer Iconia A500 Tab Offers Affordable Honeycomb Experience
With a 10.1-inch display, the Tegra 2-powered Acer Iconia Tab A500 in WiFi-only edition may prove to be a worthy and more affordable alternative to Motorola's WiFi Xoom tablet sporting Google's Honeycomb operating system. The Iconia Tab is now available for pre-order through Best Buy in the United States and will go on sale come April 24th for just under $450.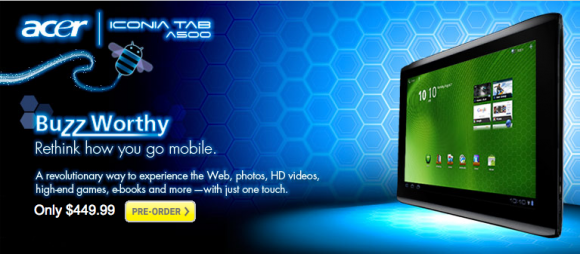 The high price of Android tablets with cellular integration has been a reason–among others–leading to slow adoption of hardware running Google's mobile tablet platform. The Samsung Galaxy Tab, which launched with the smartphone version of Android 2.2 Froyo was available through various carriers in the U.S. sans voice calling capabilities–a distinction that marked the tablet's difference with its European variants–for around $600 unsubsidized. However, since launch, the subsidized pricing has dropped considerable to around $200 and Samsung had recently announced that a WiFi-only 7-inch Galaxy Tab will retail for $350. With the Motorola Xoom, the proposition of 4G comes at a cost and the iPad competitor with its larger display size retails for $800 through Verizon.
Lacking 3G or 4G support, the WiFi-only Acer Iconia Tab, which was announced to also be coming with a 4G LTE Verizon Wireless radio at CES, will retail for a more wallet-friendly $450 price point, which offers many of the basic features that the more costly Xoom ($600 sans 4G support) has, including the 10.1-inch 1280 X 800 HD display, a dual-core NVIDIA-made Tegra 2 processor with GeForce graphics, Adobe Flash support, HDMI output, Android 3.0 Honeycomb pre-loaded, and 5-megapixel rear-camera with front-facing camera for video chat. The Ionia Tab will weigh slightly more than the Xoom (1.7 pounds versus 1.6 pounds on the latter), and will come with 16 GB of internal storage rather than the 32 GB on the Xoom. Like the Xoom, users can also augment storage capacity with a memory card, though the feature was not enabled on the Xoom at launch and is said to be forthcoming via a software upgrade in the future.
The Iconia A500 from Acer will compete with Samsung's Galaxy Tab 10.1, the Xoom, and the Asus Transformer–at least without the transforming keyboard dock. Additionally, the LG G-Slate, with a slightly smaller screen size, will also be a competitor in the same segment as the Iconia Tab A500 from Acer.
At $450, the tablet will priced just under the base $500 16 GB WiFi-only iPad 2, which launched with a dual-core Apple-made A5 CPU.
Via: All Things D