WiFi-Only Galaxy Pad Delayed Until 2011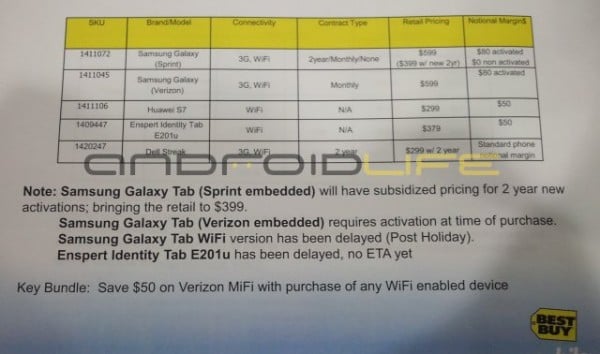 A new leak from Best Buy obtained by Android-Life suggests that the WiFi-only version of the Galaxy Tab, sans cellular data modem, may be delayed until after the Holiday shopping season. The Galaxy Tab is expected to be made available on all four U.S. national carriers, including AT&T, Verizon Wireless, T-Mobile, and Sprint. Sprint had announced that their version, which will require a data plan and a two-year commitment, will go for $399 subsidized while Verizon Wireless says that they will offer a month-to-month ubsubsidized edition of the Galaxy Tab.
However, as part of the leak obtained by Android-Life, we are learning that Verizon Wireless may require to activate the $599 contract-free edition of the Galaxy Tab on their network. After that, we believe, since it is a month-to-month device, users can cancel the data plan and re-instate it when needed. That means, unfortunately, that you can't walk out of the store without having to get a data plan.
The WiFi-only edition of the Galaxy Tab is expected to cost $500 at retail, which is the same as Apple's base WiFi-only iPad model. However, the Galaxy Tab will offer Adobe Flash 10.1 Mobile support, front and rear cameras for video chat, and removable storage. It will have a smaller 7-inch LCD display rather than the larger 10-inch iPad display, making it more mobile.

This article may contain affiliate links. Click here for more details.